Belly Laughs All Around: The 59ers Remember
By Dennis Walikainen | Published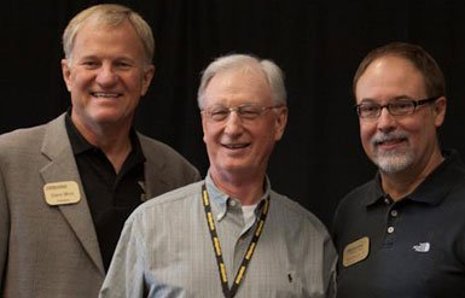 It started with certificates and pins awarded to the Class of 1959, as they joined the Golden M's, who graduated 50 years ago or more.
As digital cameras flashed, Harold Seppala hollered, "Got any Brownie Hawkeyes?"
"You're dating yourself, Harold!" was the reply.
Later, as the microphone was passed around, the stories began.
From 3 feet of foam blanketing the floor of the unit operations lab, to a 250-pound icicle tucked under a classmate's bedclothes, to the gun-toting professor who demonstrated the principle of impulse momentum dynamics using a .45 pistol and a birch log, the recollections of the '59ers generated a lot of laughs.
For details of these and other stories shared during Alumni Reunion 2009, see http://www.admin.mtu.edu/urel/ttoday/current.php
Michigan Technological University is a public research university, home to more than 7,000 students from 54 countries. Founded in 1885, the University offers more than 120 undergraduate and graduate degree programs in science and technology, engineering, forestry, business and economics, health professions, humanities, mathematics, and social sciences. Our campus in Michigan's Upper Peninsula overlooks the Keweenaw Waterway and is just a few miles from Lake Superior.