Three Detroit Teens Win Summer Science Scholarships to Michigan Tech
By Jennifer Donovan | Published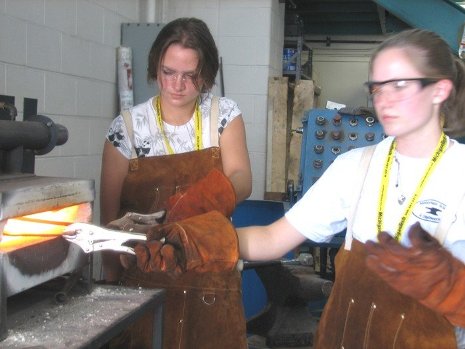 Michigan Technological University has awarded scholarships to three Detroit-area high school students to attend the University's Youth Programs this summer at the Michigan Tech campus in Houghton.
The scholarships recognize outstanding participants in the 52nd annual Science and Engineering Fair of Metropolitan Detroit, held in March at Cobo Center. More than 1,400 students competed in the science fair, one of the largest in the world.
Winners of the Michigan Tech summer scholarships are Gabriel Hall, an 11th grader at the International Academy in Bloomfield Hills; Andrew T. Smith, 10th grade, and Jahanavi M. Ramakrishna, 11th grade, both from Detroit Country Day School Upper. Ramakrishna went on to place third in the Michigan Science and Engineering Fair, held April 5 in Flint.
Ramakrishna's project, in the Engineering category, involved determining the time parameters for the 2-second rule that controls the trigger of the lane departure warning system used at auto racetracks.
Smith's project, in Environmental Science, examined whether composting leaves produces enough methane for use as fuel, and if so, which leaves produce the most methane.
Hall's project, in Engineering, involved design of an electromagnetic mass driver powerful enough to reach orbit in space, yet cost-effective.
The three scholarship winners will have their choice of dozens of residential programs that Michigan Tech offers for teens each summer. The programs include Summer Youth Explorations, Women in Engineering, Explorations in Engineering and Women in Computer Science.
For more information on Michigan Tech's summer youth programs, see http://youthprograms.mtu.edu/programs.html.
Michigan Technological University is a public research university, home to more than 7,000 students from 54 countries. Founded in 1885, the University offers more than 120 undergraduate and graduate degree programs in science and technology, engineering, forestry, business and economics, health professions, humanities, mathematics, and social sciences. Our campus in Michigan's Upper Peninsula overlooks the Keweenaw Waterway and is just a few miles from Lake Superior.