CN Donates $250,000 to Michigan Tech's Rail Transportation Program
By Jennifer Donovan | Published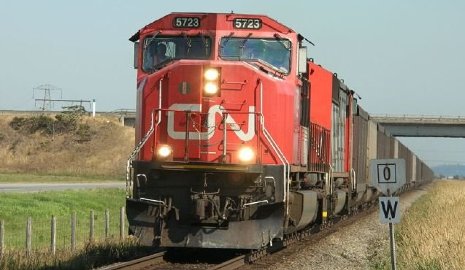 CN, one of the largest railroads in North America, today announced it has donated $250,000 to Michigan Technological University's Rail Transportation Program to create the CN Rail Transportation Education Center (CN RTEC).
The CN RTEC will open in fall 2009 and function as a central location for student, faculty and industry collaboration. It will also provide education and research facilities for the Rail Transportation Program, including computer workstations with rail applications, a reference library and on-line learning technologies.
"CN's decision to support the CN Rail Transportation Education Center is an integral part of the development of this program and has helped ensure its future success. It is a pleasure to be able to share with CN the excitement we have for the Rail Transportation Program," said Michigan Tech President Glenn D. Mroz.
Jim Vena, CN's senior vice president, Southern Region, said: "We are very pleased that our donation will help today's youth become tomorrow's railroaders--the people who will shape the future success of our company and the North American economy. Few universities in the United States can produce students with such high-caliber education, specifically in railroad transportation, as Michigan Tech does. Michigan Tech engineering graduates arrive at CN well equipped to start working for the railroad."
The 18-month old Rail Transportation Program (RTP), directed by Pasi Lautala, is designed to attract university students to rail industry careers.
"CN's generous donation is a strong indication of their ongoing commitment to education and truly gives identity to the rail transportation activities at Michigan Tech," said Lautala. "Railroads are an integral part of transportation in North America, and we want to assist our partners in developing the system and people that can meet the future demand. The RTP has great momentum right now, and CN participation is an enormous step for us as we continue to strengthen and expand our program."
Michigan Tech's RTP attracts students from a wide range of degree programs and includes courses about rail transportation and engineering, as well as urban rail transit. The program currently offers three rail-related courses. Through its innovative Summer in Finland program, it is the first rail transportation education program to integrate a strong international study component into a multi-disciplinary thrust in rail education.
The RTP has started an initiative to establish a multi-disciplinary certificate in rail transportation and engineering. The University is also working with its industry partners to expand opportunities for student and faculty participation in real-world rail development through sponsored projects and research.
Lautala added, "The CN Rail Transportation Education Center will be a tremendous resource as Michigan Tech's Rail Transportation Program continues to expand. With support, technical experience and training inspired by corporate leaders like CN, Michigan Tech graduates will be prepared to meet the needs of the rail industry for the 21st century."
Through the CN Stronger Communities Fund, CN supports health and safety programs for young people, transportation education, the CN Railroaders in the Community employee volunteer grant program and United Way. As an Imagine Caring Company, CN is committed to contributing one per cent of pre-tax profit to registered, non-profit organizations in communities where its employees work and where it operates its business.
CN--Canadian National Railway Company and its operating railway subsidiaries--spans Canada and mid-America, from the Atlantic and Pacific oceans to the Gulf of Mexico, serving the ports of Vancouver, Prince Rupert, B.C., Montreal, Halifax, New Orleans, and Mobile, Ala., and the key metropolitan areas of Toronto, Buffalo, Chicago, Detroit, Duluth, Minn./Superior, Wis., Green Bay, Wis., Minneapolis/St. Paul, Memphis, and Jackson, Miss., with connections to all points in North America. For more information on CN, visit the company's website at www.cn.ca.
Michigan Technological University is a leading public research university, conducting research, developing new technologies and preparing students to create the future for a prosperous and sustainable world. Michigan Tech offers more than 120 undergraduate and graduate degree programs in engineering, forestry and environmental sciences, computing, technology, business and economics, natural and physical sciences, arts, humanities and social sciences.
CN media contact: Patrick Waldron
708-332-4377; patrick.waldron@cn.ca
Michigan Technological University is a public research university, home to more than 7,000 students from 54 countries. Founded in 1885, the University offers more than 120 undergraduate and graduate degree programs in science and technology, engineering, forestry, business and economics, health professions, humanities, mathematics, and social sciences. Our campus in Michigan's Upper Peninsula overlooks the Keweenaw Waterway and is just a few miles from Lake Superior.