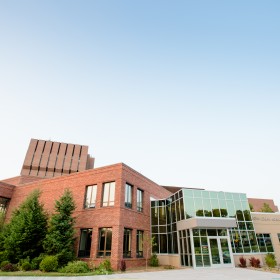 I don't want to say that summer is actually over—I've had such a busy summer that it feels like I'm still waiting for Memorial Day. I did the math, in fact, and I've traveled close to 9000 miles in these last three months. Time quite literally flew by.
But the proof that summer is over is all around us this Labor Day (yes, it is Monday afternoon as I'm typing this). College Avenue is full of pedestrians and cars. There actually are a few minutes of rush hour. And looking out the windows of any academic building near the top of the hour as the sidewalk traffic builds to a level that seems impossible, that's the real clue that it's fall.
The temperature is still warm, of course—it always manages to be in the 90s when students come back, just to make the classrooms nice and comfortable—and this Friday is K-Day, so there's still time to play under the sun.
What I love the most is to see these students getting out and exploring. Being able to explore is so much of what makes Tech what it is. And it's the beginning of the process for our first-year students discovering who they are, too.
It's one of those ways where I'm lucky to be part-time faculty. In our online system we get a list of everyone in our classes, including their ID photos. This year I'm teaching first-year students, so that's simple. They actually look like their photos. But I've taught a few upper-division courses, and those ID photos from years earlier have such little resemblance to reality.
And this week is kind of the start of that. K-Day is that chance to see all of the activities and groups on campus. They'll meet a lot of people as they continue to be on that road to who they are, a road I guess we're all on as we travel along.
Elsewhere:
Last issue I asked you what you would say if you were handed the commencement address in a hurry. There's a great response down in the email bag, and it's exactly that thought about our students: that winding path to becoming who we are.
Check out the Superior Ideas project below for a weather station on the western shore of the Keweenaw. This seems like an essential thing to me, though if we'd rather spend 1000 times as much, we could just change the project to buying me a house on the shore and I'll check the weather. Probably not going to happen, that.
Athletics are fully back in action, and I've tried to include as much information as possible. Make sure to check out their social media channels to keep up, especially the videos they post on a regular basis.
I did have the great joy of announcing the mountain bike race in Copper Harbor this past weekend. I've been fortunate enough to do this for the last decade, and it's great to see so many Tech alumni there. If you haven't been up to Copper Harbor in the last five or six years, their trail system is—not joking—ranked as one of the top five in the world.
Late update: we had an incredible aurora up here last night. I shoot on film, so I won't get the chance to play chemist develop film until this evening, but there are some great shots out there.
And finally, Career Fair is just around the corner, a time when I know we welcome so many of our alumni back to campus. It's really the second alumni reunion of the year with hotels jammed nearly to Marquette. It looks like it'll be another record-breaking year this year, the SDC bursting at the seams with employers hungry for employees. I hope to see some of you up there.
Thanks for reading.