Back in the early 70s Tech was on a quarter system. Spring break was in late February-early March and was a quarter break. On Spring Break the Mining, Geology, and Metallurgy students belonging to the AIME student chapter could go on an extended field trip to various mining sites.
In 1974 we went south into Illinois, Indiana, and Missouri and spent the first night at the YMCA in Milwaukee. We were in a Tech school bus driven by Professor Atwood. We woke up the next morning to a heavy snowstorm. Between power outages and gasoline shortages because the February monthly gasoline allocation had run out (it was in the middle of the 1973-74 oil embargo) we couldn't find an open gas station and our bus ran out of gas on an exit ramp on the freeway south of Milwaukee. A snowplow pushed us to the side of the road. A couple students hitched a ride on a passing snowmobile to a gas station about a half mile away, but their power was off and the gas pumps weren't working.
We wound up siphoning about two gallons of gas from the rear of a Wisconsin Highway Patrol car. The patrolman may or may not have been aware we were doing this. Our professor was talking with him at the car window at the time and we were keeping low behind the car.
That got us to a station about 10 miles south that was open and had gas. That was enough to get us around Chicago where none of the gas stations on the freeway had any gas.  We finally found a station open in central Illinois that had "plenty of gas" according to the owner, almost as if there were no problems getting any 50 miles away in Chicago. The rest of the trip was uneventful because March came and the gas stations started a new gas allotment. On the way back a Wisconsin Highway Patrol pulled us over for going 57 mph, violating the brand new 55 mph nationwide speed limit.
If you missed the 70s, you didn't miss much.
Bruce Kettunen '76 Metallurgical Engineering
-Great example, Bruce, of it's not about the destination but the journey to get there. Thank you for sharing this 1970 spring break memory! -SW
–
My favorite spring break memory was every year from 2013-2015. I got to enjoy playing basketball with my teammates in the NCAA Tournament three years in a row; much better than going to a beach! #SpringBreak #MarchMadness #MTUMBB
Phil Romback '15
-Thank you for sharing your memories, Phil. I am sure those were some great times! -SW
–
I was in Air Force ROTC and we had the opportunity to ride in a C-130 down to Eglin AFB in Florida. The heater was not turned on both ways so we all had our parkas on trying to keep our feet off the floor to warm them up. I was 19 at the time. The drinking age in Michigan was 21, but in Florida it was 19. I had a military dependent ID card, so I had a few more privileges than most of the cadets. I was able to buy some cold duck at the Package Store on base. My fiancé and I were trying to play Frisbee under the influence. That was interesting. One of the other cadets was wondering why we were not very coordinated. We had dinner at the Officer's Club on the beach where I had Baked Alaska and we got to swim in the ocean. One of the cadets spent the night off base with someone he met there and barely made it back before takeoff. The military pilots were pretty upset with us for delaying their schedule. There was a board of inquiry after the trip and my fiancé and I were caught holding hands in uniform. We got a slap on the wrist for that. I think it was a long time before future cadets were able to have the opportunity to do that again.
Stacey E. Keener '88
-Sounds like an exciting spring break, Stacey! Thank you for sharing your memories! -SW
–
My freshman year I lived in the Tonne family home right across the road from Quincy #2, the original remarkable gabled shaft house. When exploring, I found that they had made a mistake when they padlocked the engine house door. The lock flap was screwed to the outside of the door frame. I went for a screwdriver, unscrewed the flap, went in and walked around in awe of the incredible hoist engine and spooling drum. On the way out I resecured the lock and went back to the Tonne's.
Don Johannesen '56
-What a discovery that day! Great memory, Don! Thank you for sharing. -SW
–
If memory serves, I did Spring Break twice–1976 and 1977. Five or six of us piled into one of the group's station wagon with all our stuff and drove to FL. We stayed in Daytona Beach because it was cheaper & less crowded than Ft. Lauderdale. And we camped, since we couldn't afford any sort of motel. Drove to and onto the beach each morning, after a hearty breakfast of beer and cold cereal, then drove back to the campsite in late afternoon. I recall that both times we went, it was too cold for swimming, but we had plenty of sun.
Tom Paschetto '77 Forestry
-Sounds like an enjoyable Florida spring break with lots of sun! Thanks for the memory, Tom. -SW
–
We just lost our DEAR father.  He went to Michigan Technological University, as did I. I got his class ring.  I am trying to determine what the personalization's on it mean. Can you help me?
Thanks,
Mike Roe '85
-Thanks for sending the pictures, Mike. If anyone knows anything about the ring, please share your information with us.
–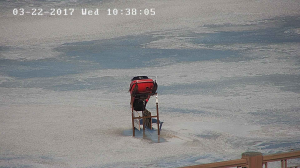 Here is an update on Houghton Rotary's Sink the Sled contest. With temperatures trending up and sunny days ahead, it is anyone's guess when the ice will crack and "Old Johnson" will sink. If you can predict the date and time that our vintage, eco-friendly Johnson snowmobile falls through the ice on the Houghton Canal, you could be the grand prize winner.
Watch live webcam views.
 No worries about messing up our beautiful canal, the sled is tethered with a cable and it will be removed in the spring. This is a fundraiser for local scholarships.
Carrie Richards '84
-Thanks, Carrie! We await news of when the sled falls in the canal. -SW