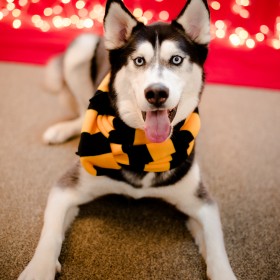 Exercise more. Eat better. Learn a new skill.
Most people make resolutions at the start of each year. Some are kept. Many are forgotten by February.
Here are five Husky resolutions for 2017.
1) Come home: When is the last time you attended Winter Carnival, Alumni Reunion, Homecoming, or returned to campus to reconnect with a favorite professor? If it's been too long since you've been back to Michigan Tech, make this the year you return. Need a little help deciding when to come? HERE is our events calendar to help you find the perfect occasion.
2) Give Back: Many people think only of money when they hear about giving back to their alma mater, and while your financial support is critical, there are many other ways that are equally important. Volunteer, mentor or hire Husky grads, or attend Career Fair. Want to speak to someone about ways to give? Contact the Alumni House at 906-487-2400 or alumni@mtu.edu.
3) Get involved: Connect with your local alumni chapter (or start one) and cheer on the Huskies when they hit the hardwood, gridiron, pitch, or ice near you.
4) Wear it Proudly: Michigan Tech recently rebranded. Do you have your new Husky gear? Find the latest styles HERE and be ready to spot your fellow Huskies wherever you travel.
5) Keep in Touch: Finally, stay connected. Let us know where you are, what you're doing, and when you have news. Want to know what's going on here in Houghton? Engage with social media for daily updates, TechAlum for news, sports, and alumni events, and Michigan Tech Magazine for stories about Huskies doing good work around the world.
Thanks for reading TechAlum. Happy New Year and Go Huskies!