Kent Johnson receives Dave Ford Award
On October 17, 2017, Kent Johnson received Minnesota's most distinguished award for protecting clean water.  At the annual Minnesota Water Resources conference, Johnson was given the Dave Ford Award*, which is bestowed by the conference's planning committee to recognize individuals whose lifetime accomplishments have contributed to improving Minnesota's water quality.
Until his retirement in June 2017, Kent Johnson worked for the Metropolitan Council Environmental Services (MCES) in St. Paul, MN.  In 1979, he was hired as an aquatic biologist to cultivate a biological monitoring program for Twin Cities rivers.  For much of his 38-year tenure with MCES, Kent managed the Environmental Monitoring and Assessment Section that operates and oversees, with the help of volunteers and partners, a large network of river, stream, and lake monitoring stations in the Twin Cities Metropolitan Area.  Under Kent's leadership and passion for good science and clean water, the MCES network has grown to become one of the most comprehensive surface water monitoring programs for a metropolitan area in the nation.
Throughout his career, Kent has been involved in a number of professional organizations, including the Mississippi River Research Consortium (President and Executive Board), the Midwest Chapter of the Society of Environmental Toxicology and Chemistry (Executive Board and Membership Committee), and the Upper Mississippi River Conservation Committee.
Kent earned his Bachelor of Arts Degree in biology at St. Olaf College (1974).  While at St. Olaf, he was advised and mentored by Dr. James Zischke (Biology Department), who spurred Kent's life-long interest in water.  Since graduation, Kent has returned to Northfield to speak to St. Olaf classes about water quality and advise a community group working to restore Rice Creek, the only trout stream in Rice County.  In 1980, Kent obtained a Master of Science Degree in aquatic biology at Michigan Technological University (MTU), where his thesis work focused on the ecological relationships of aquatic invertebrates in an Isle Royale river.  While at MTU, Kent was advised and mentored by Dr. Kenneth Kraft (Biology Department).  Kent continues his academic connections as a visiting lecturer in landscape architecture, water resources management, and river ecology at the University of Minnesota-Twin Cities and University of Wisconsin-River Falls.  As a biologist and trout angler, Kent has remained a life-long student of aquatic insects; he even has a metric named after him (Johnson Mayfly Emergence Scale).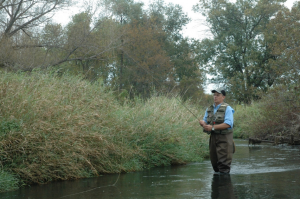 Beyond his professional contributions to water resources at the Metropolitan Council, Kent has devoted countless hours as a volunteer to protect and restore his favorite aquatic ecosystems: trout streams.  He has served on the conservation committee of the Kinnickinnic River Land Trust (KRLT) since 2006 and was a KRLT board member from 2006 to 2012.  Kent has been a long-time member of the Kiap-TU-Wish Chapter of Trout Unlimited (TU), serving on the chapter's executive board from 1990 to 2010.  Kent's TU volunteer work has focused on the protection, restoration, and monitoring of cold-water streams in western Wisconsin, where he has been evaluating the impacts of stormwater, hydropower, and climate change, as well as the success of stream restoration projects.  To honor Kent's TU volunteer work as a steward of the Kinnickinnic River, Wisconsin Trout Unlimited presented him with the "Jeffrey Carlson Volunteer Award" in February 2013.  This is the highest individual award given by Wisconsin Trout Unlimited, to honor the most outstanding TU volunteer contributor in the state.
*The Dave Ford Award honors the longtime Minnesota Department of Natural Resources Water Division engineer who passed away in 2003. Ford is remembered for his excellent theoretical understanding and practical knowledge to effectively use models to address a variety of water resource management issues. He was first and foremost a teacher, a mentor, a cooperator and a friend to many in the water resources community.