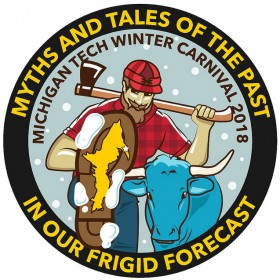 Winter Carnival starts Thursday (February 8)! There's so much to see and do. We hope you can join us!
Snow statues. Broomball. Beard contests. Comedy skits. "Myths and Tales of the Past in our Frigid Forecast" is the theme of this year's Winter Carnival. Lots of events and activities are planned. See the complete list here.
If you're at Michigan Tech during Winter Carnival February 8-11, join us in breaking the Guinness World Record of making 2,036 snowmen in one hour. The event will take place from noon to 3 p.m. Saturday, February 10 at Sherman Field. Share and invite others to participate.
There's hockey, human sled dog races, the torchlight parade and fireworks.
Visiting Tech? Be sure to stop by Alumni House to warm up and say hello. We'll have the coffee and hot chocolate ready.
If you can't make it to Winter Carnival this year, visit the All-Nighter live blog. Enjoy all the Husky traditions—broomball to statues—from the comfort of your warm living room or wherever in the world you are. Festivities will kickoff 7 p.m. Wednesday, February 7.