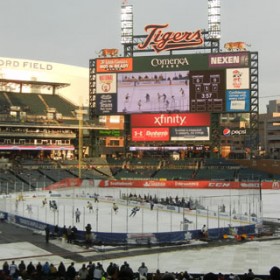 We were fortunate to receive one more present this holiday season. In downtown Detroit, we were rewarded with a tremendous weekend of alumni events and Huskies hockey. Although Western Michigan won the overtime finale, the effort put forth by the team was tremendous and matched only by the revelry and support of fans, friends, and especially those alums. And it all took place in Comerica Park, which gave it an unprecedented ambience.
Just one break, including a puck that was deflected over the Western goalie but somehow didn't go in, and we'd be celebrating back-to-back titles. This team has exhibited an intense work ethic all year, routinely out-shooting opponents and often only lacking that one goal to make a difference. Don't count them out.
The very first Huskies fans I ran into were Pat and Vivian Neville from Woodbridge, Ont., parents of freshman forward Mike Neville. Pat coached all three of their sons in junior hockey.
Our volunteers at the alumni event included Dave Szczesny '82 who handed out a lot of pickled eggs. Doug '00 and Kelly '00 Jost were aided by children Samantha and Zack, who became "pom-pom-ologists," setting up the gifts for alumni.
Lambda Chi was in the house. Carl Craven '88, Steve Williams '86, Rich Peek '90, and Tom Troher '85, all MEs, were getting warmed up for hockey action.
Phi Taus were everywhere, it seemed. Ringleader Marty Schendel '83 metallurgy; was surrounded by a couple of generations: Alan Roberts '97 ME; Anthony Nowicki '09 Bio Med '11 EE; and Mike Braun '15 Comp Engg. were among the pre-game revelers.
A trio of alumnae: Nyx (Rathbun) Shanks '05 Geo, Michelle Murphy '09 marketing, and Alicia Hemenger '08 MET, '10 Bio Med; were getting fired up.
I recognized Jim Anastasiow '84 STC from last year's GLI. He was with wife, Karen, and Evelyn Hoffman Jackson '90 MSE, Steve Hoffman '92 EE, and Jeanette Hoffman '88, a civil.
Phil DePetro '07, '11 environmental; is the son of a friend of mine from Marquette. He was representing Pep Band alums and won a pizza later on Saturday night, probably because of the "Feed the Band" cheer that was bellowed by the band and Mitch's Misfits and heard throughout the huge ballpark.
Kelly '08 Hoober and I chatted about English profs, and her husband, Ben '08, was a civil. They were down from Dewitt, Mich.
Cindy Fix '89 and Mark Paparelli were joined by  Louis '06 '11 and Lisa Pignotti for Saturday night pre-game. Lisa was a former colleague at Tech, and she and I worked on the old Student Handbook together.
I ran into two more Phi Taus down near the ice. John "The Duke" Vine '75 civil, was attending his 46th GLI! He was sitting with Bernie Hart '76 ME, who flew in from Seattle for the event.
I ended up sitting near the Pep Band and Mitch's Misfits near the end of Saturday's game. In the 39 degree night, it was pleasant. When the Western mascot Buster Bronco stopped by, he was met with chants of "You turn glue," and "Why the long face?"
In addition to blowing away the opponents' bands both nights, the gang kept a constant cheer going, so everyone knew that Michigan Tech was there. With the large number of Tech shirts dotting the ballpark, we were hard to miss.
And although the result wasn't what we wanted, we made the long ride home Sunday thankful for the opportunity to witness something special: outdoor Huskies hockey in a major league ballpark and the special camaraderie of Huskies fans aged 4 to 74.
Dennis '92 '09
Snowfall Update
Unbelievable
I know it's a lot because the alumni were impressed. Coming back to the snowbanks was shocking.
Again, the Keweenaw County numbers are the best.
And, KRC isn't bad, either, well ahead of last year.