Michigan Technological University has the perfect summer adventure for them!
As an alumni, you know Michigan Tech is special and Michigan Tech's Summer Youth Programs (SYP) are not your ordinary summer camp.  At this camp, participants perform chemical diagnostics, program video games, launch hand-built rockets, and analyze crime scenes! You can give your child the chance to explore career options in some of the most in-demand industries today, while gaining skills that help them in their day-to-day lives.
"I didn't know what to expect when I first arrived at this camp, but it turned out to be amazing. I learned lots about engineering and that I love the premise of electrical engineering. I learned how to solder for the first time! We built circuit boards and attached them to batteries, a pencil, and a speaker to make a pencil that makes noise when you touch its graphite. I also made many friends and now know I can survive without my parents (for 5 days at least!). Overall, college and the future seem much less scary now." – Himaja from Canton, MI
SYP is more than just a summer camp. You can challenge your child to attack each day with enthusiasm and confidence.  You can provide them the opportunity to try hands-on projects that ignite a passion to continue their exploration of science, technology, engineering, and math (STEM) beyond camp. They may even decide their future career path before they leave campus!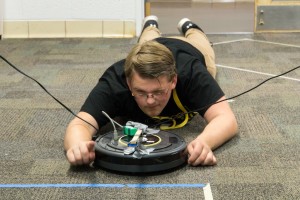 "I came to this program looking for answers [...] so I came here to get an idea of what real engineers do. And I fell in love.  Without this program, I would have never considered engineering as a career.  Now, I'm making plans to study electrical engineering.  Thank you for everything you've done for me, and for my future." – Mark from Pewaukee, WI
You can help your crazy smart teen find the STEM career path waiting for them! Enrollment is now open for 2018 programs and you can find the complete list of 40+ explorations and fill out an online application.
Plus, as a Michigan Tech graduate your child or grandchild is eligible for a $50 discount!
If you have any questions please contact us at the Center for Pre-College Outreach at 906-487-2219 or 888-PRECOLLEGE. We can't wait to meet your future Michigan Tech Husky this summer!