Tom Chamberlain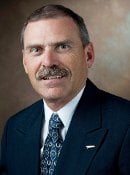 AAS Electrical Engineering 1978
BS Electrical Engineering 1982
Alumnus: Of Ships and Stewardship
When he was young, Tom Chamberlain aspired to be financially successful. He has done so and attributes the achievement to hard work, an eye for opportunity, never backing down from a challenge, and a Tech education. He is grateful for that schooling yet. "Tech made me a success," he says. "I need to give back for the foundation Tech gave me. We all have to do that." He has done so generously and steadily.
Chamberlain graduated in 1978 with an associate's degree in electrical engineering technology and in 1982 with a bachelor's in electrical engineering, majoring in power systems. He has worked for 28 years at Newport News Shipbuilding, a 125-year-old firm that has handled the design, construction, overhaul, and repair of more than 800 ships for the US Navy, the US Coast Guard, and commercial customers.
The company is the nation's sole designer, builder, and refueler of nuclear-powered aircraft carriers and one of only two shipyards capable of designing and building nuclear-powered submarines. Newport News Shipbuilding built the first nuclear-powered submarine, the Shark, in 1959, and the first nuclear-powered carrier, the Enterprise, in 1961.
Headquartered in Newport News, Virginia, the shipyard's vast facilities include 600 buildings and span more than two miles of waterfront on the historic James River. It is home of the Western Hemisphere's largest dry dock. It employs 20,000 people. Chamberlain is the director of quality control and oversees 450 inspectors who have the authority to reject any component or stop any job on these projects.
This business requires foresight. Building a submarine takes 10 years of planning, 65 months to build, and costs $2 billion. Building an aircraft carrier takes 10 years of planning, 72 months to build, and costs $7 billion.
The scope of this operation is astounding. "An aircraft carrier is a floating city," Chamberlain says. "So everything a town has—from a medical clinic to a fire department to waste facilities—a carrier has."
Chamberlain is a native of Houghton. As a youth, he had two interests: to become an electrical engineer and a police officer. He made his way through Tech working at a pharmacy and earning scholarships. "I was one of a few who were happy when
tuition went up," he said. "I got a bigger check that paid for books and all that I needed."
He and his wife Susan have been together for 31 years. They married while in college. Susan, a CPA, graduated from Suomi College and Christopher Newport University. They thoroughly enjoyed their college days. "Even though we didn't have any money, we had many interests," Chamberlain says.
In 2000, he allows that he had "a mid-life crisis." He wanted to realize a lifetime dream and become a police officer. Therefore, he attended the Virginia Police Academy and did yeoman's duty. The rigor involved four hours a night, four nights a week, plus Saturdays, for six months. All that on top of his regular job. Chamberlain passed the program with the requisite flying colors. "One of my proudest moments," he says. He is a volunteer police officer at the College of William and Mary. He is known as the "Clark Kent" of William and Mary. "I always wanted to be a cop. I really like it. It keeps me in touch with students."
Hard work is his kingpin. "I like to be busy. It doesn't matter what, but it has to be something of value." That includes service in William and Mary's Catholic Campus Ministry, along with scouting and cooking holiday meals for his fellow on-duty police officers.
He remembers his roots, and he supports Michigan Tech with annual giving. As well, he and Susan have established a living trust that will support youth programs and educational institutions, including Michigan Tech. The Tech portion of their trust is unrestricted and will be used wherever the University identifies a need. "We don't have kids," he said, "and we wanted to have a vehicle that will help Tech when we pass on." He also is helping to organize social gatherings for Tech alumni in his area of Virginia.
From The Michigan Tech Fund Foresight Newsletter – Fall 2011