Bob Todd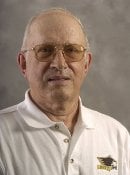 Bob Todd sums up his 38 year career by saying, "All in all it was a good career, working with and meeting hundreds of people from Florida to Alaska and Oregon to Kentucky in diverse political, social and environmental communities."
That career began in 1951 after Bob's graduation from Tech. He headed to Idaho for a summer position with the Forest Service doing Blister Rust control on the on Kaniksu National Forest. While there he was sent to several large fires in Idaho and eastern Washington. He did not know then that fire would be a constant of his career.
In 1952 Bob went to work for a large paper mill in Rome, Georgia a subsidiary of Mead/ Inland Container. He did cruising for land acquisition, timber marking, and land management which included fighting of small fires in Georgia and Alabama, over the years.
In 1959 Bob moved to Valley Head, Alabama and was in charge of lumber sales, cruising, and tree planting on company lands in Georgia and Alabama for a large lumber company.
Bob took a position with the Red Lake (Minnesota) Indian Reservation for the Bureau of Indian Affairs, US Department of Interior, working on timber sales. There was heat, extreme cold, mosquitoes, black flies, snow worms (really) and forest fires to contend with. Bob eventually became chief, but that still meant 2 a.m. fire calls in the dead of winter when it was 20º to 40º below zero.

He later transferred to the Bureau of Land Management in Medford, Oregon where the winter temperatures were balmy by comparison. There he worked in old growth Douglas fir as a cruiser, laying out timber sales, marking, and surveying logging road locations and overseeing road construction. As district fire control officer and silviculturist he worked on several large fires in the coastal range of Oregon.
In 1969, Bob remembers a "three week all-expense paid tour of Alaska," as division and line boss on some huge fires in tundra and black spruce. Bob says, "Awesome is an overworked word, but Alaska is huge and so were the fires." One fire was 600,000 acres.
Bob had an opportunity in 1977 to head up an environmental office as project manager in Tuscaloosa, Alabama. He wrote environmental impact statements about proposed leasing of Federal coal rights in the Black Warrior Basin. When that office closed, Bob and his family moved to Jackson, Mississippi where he became associate district manager and oversaw the management and leasing of all Federal mineral rights in the Southeastern US.
Bob returned to Medford, Oregon where he became the assistant district manager for resources for an 800,000 acre district. He managed a large staff in addition to two seed orchards that produced rust free Sugar Pine and other genetically improved species.
As part of his civic life, Bob has been a scout master, served as president of a Boy Scout Council, sung in the church choir, has been a volunteer fire fighter (becoming a qualified structural fire fighter) and served as a city council member.
In 1990, at the age of 60, after 38 years of service, Bob retired. He has four children and his five grandchildren live nearby. He enjoys woodworking and pecan farming.
Bob was elected to the School of Forest Resources and Environmental Science's Honor Academy in 2005.