Susan Kiehl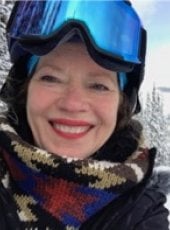 BS Metallurgical Engineering 1983
"Family, health, work. It may seem funny to place work third, but I could not bring my whole self to the job without taking care of those I love and taking care of me first."
That is Susan Kiehl's philosophy on life. She is the recipient of this year's Distinguished Alumni Award and a 1983 Michigan Tech graduate.
She says Michigan Tech taught her how to think. "An engineering education is incomplete if a student is not given the opportunity to take the facts and figures and utilize that information to solve problems," she says. "Michigan Tech has always understood the necessity of linking learning to doing."
Kiehl retired as the Vice President of Product Development—F-16/F-22 Integrated Fighter Group (IFG), for Lockheed Martin Aeronautics, based in Fort Worth, Texas. She was responsible for the development, test, management, execution, and delivery of IFG technical solutions and products. Previously, she served as Vice President, F-35 Earned Value and Performance Excellence for Lockheed Martin Aeronautics, where she was responsible for the F-35 business rhythm, ensuring timely, accurate, and compliant program execution and finance, scheduling, and program management products.
Kiehl held various leadership roles since joining Lockheed Martin Aeronautics in 1984. As the Vice President, Program Management from 2010–2012, she was responsible for the workforce development, program assist, and the planning, processes, and tools necessary for the program teams to implement perfect performance. In addition, she was responsible for the Earned Value Management process for Aeronautics.
As Director, F-35 Joint Strike Fighter International Business Development from 2008 to 2009, she managed the capture efforts for the eight international partner countries and for on-going and future Foreign Military Sales (FMS) for the F-35. She served for five years as Director, F-16 Greece, Poland, and Italy Programs, with responsibility for managing all contractual obligations associated with these programs, including design, development, build, and delivery of aircraft. Earlier roles included Director, Business Development Operations and as Team Lead for F-16 Airframe Integration. She also has been a member of the Materials and Processes Engineering team. In addition, she is a board member for a small engineering firm, Brechting Bridge and Engineering.
Kiehl has a bachelor's degree in Metallurgical Engineering from Michigan Technological University and an MBA in Engineering Management from the University of Dallas. She remains active with Michigan Tech, serving as the first aerospace industry member on the Michigan Tech College of Engineering Industrial Advisory Board and as a member of the Michigan Tech Presidential Council of Alumnae.
"Michigan Tech provided me a wonderful education and equipped me with the necessary foundation to excel in the workplace," Kiehl says. "We visited Houghton every summer growing up. There was never any question where I wanted to go to college." In addition to her own ties to Michigan Tech, her grandfather, Gilly Boyd, taught at Tech; her father, Frank Brechting, earned two bachelor's degrees and a master's degree from the school; and her brother, Frank, also graduated from Michigan Tech.
Kiehl says she would give the following advice to Tech students and young alumni. "Be responsible for the quality of your work. At the end of the day, it IS about the job you do. Learn to make and keep commitments. You will stand head and shoulders above the rest if you can be counted on to do what you say. Be nice. It does not cost more to be nice to people, and the benefits of the relationships you will make are immeasurable."
Since retirement, Kiehl has relocated to Grand Haven, Michigan. She spends her days skiing, swimming, Spinning, teaching/doing yoga, and reluctantly working in her father's vegetable garden. In addition, she plays her flute in the West Michigan Concert Winds, where she is the Executive Director, sings in the church choir, and in her down moments is learning to knit. She has three children, a daughter-in-law, and a son-in-law – Sam and Robin, Lilli and Josh, and Izzy.