Carol Schaller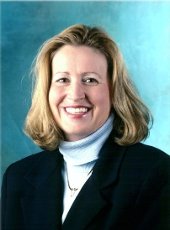 BS Business Administration 1987
Carrie received her Bachelor of Science degree, and French language certification, from Tech in 1987. She was carrying on a family tradition by attending Michigan Tech. Her father, Tom, was a 1963 Business Administration grad from Tech. Carrie has been employed with The Dow Chemical Company in Midland since leaving the University. She is currently Process Manager for Dow Information Systems' Application Support Managers. Her group manages the support budgets and service level agreements for Dow Application Support globally. She has held several Information System progression level and supervisory positions within Dow Global Information Systems including Computer Analyst, Information Systems Analyst, Application Support Manager, and Senior Administrative Supervisor.
Carrie was very involved in campus activities while attending Michigan Tech. She was a member of several organizations including Blue key, Phi Eta Sigma Honor Society, White Roses of Sigma Tau Gamma, and the American Production and Inventory Control Society. She received the School of Business' Sam Tidwell Outstanding Woman in Business Award in1986. In addition, she was recipient of the Board of Control Scholarship, the Chevron Scholarship and the MTSF Leadership Scholarship. She was also listed in the 1987 Edition of Who's Who among Students in American Colleges and Universities.
Carrie's relationship with Tech has continued since becoming an alum. She is the lead IT recruiter for Dow Chemical at Michigan Tech. She recruits graduates for permanent positions and students for internships. She is also a lead member for the Dow-Michigan Tech MIS Team to create the MIS Scholarship Fund. She has made numerous presentations to Tech's School of Business MIS students over the years, and has been a keynote presenter at a MIS dinner during Career Week at Tech, as well as a role model speaker for the Youth Programs.
Through Dow Chemical, Carrie has been trained as a Six Sigma Black Belt. She is currently a member of the Project Management Institute. She also volunteers at her children's school for Picture Parent Program, and with the Midland Figure Skating Club.
Carrie and her husband, Michael, reside in Midland with their three children, Katherine, Jack, and Margaret.
From the 2003 Presidential Council of Alumnae Induction.