Suzanne Sanregret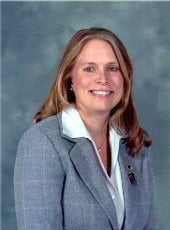 BS Business Administration 1993
MS Business Administration 2006
Suzanne Sanregret received her bachelor's degree in Business Administration in 1993 and her master's in Business Administration in 2006.
After earning her bachelor's degree in 1993, Suzanne began her career in the Michigan Tech Athletic Department as the Athletic Equipment Supervisor. In 1995, she became the Athletic Business Manager and then the Assistant Athletic Director and Senior Woman Administrator in 1997. In 2005, Suzanne was named Athletic Director and Senior Woman Administrator, the first female athletic director at Michigan Tech and one of only a few female athletic directors across the nation.
Throughout her career, Suzanne has remained active within her profession. She has served on the NCAA Division II Legislative Subcommittee since 2001 and also has chaired the Review Subcommittee since 2002. She has been a member of the Great Lakes Intercollegiate Athletic Conference Executive Council since May 1991 and chaired and served on numerous committees. She served on committees in the Western Collegiate Hockey Conference and acted as the NCAA Tournament Director and Conference Presenter during several NCAA championships. Suzanne is also a member of the Institute for Administrative Advancement and the National Association of Collegiate Women Athletic Administrators.
Suzanne is active in the local community as a Sunday school teacher and is a volunteer for the Houghton Rotary Sea Food Fest, Copper Country Junior Hockey, and Portage Lake Little League.
At Michigan Tech, Suzanne has been a member of the Dean of Students Search Committee, the Athletic Council, the University Student Commission, the President's Commission on Substance Abuse Prevention, a Board of Director with the Huskies Club and Blue Line Club, and currently serves on various other University committees and advisory boards. As a student at Michigan Tech, Suzanne was an athletic department student employee and active in the Intervarsity Christian Fellowship.
Suzanne and her husband, John, reside in Hancock, Michigan with their two sons, Matthew and Bradley.
From the 2007 Presidential Council of Alumnae Induction.