Norman Remington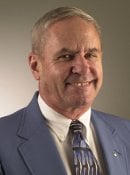 Norm is a 1961 graduate of the School of Forest Resources and Environmental Science. He began his 34-year career with the Michigan Department of Agriculture, Pesticide and Plant Pest Management Division, in 1963 as an inspector working with a cereal leaf beetle and nursery inspection program.
From 1964 to 1972 Norm was the district inspector in Escanaba responsible for all division, and many departmental activities in, the Upper Peninsula and three northern counties in Lower Michigan. Responsibilities included nursery inspection, apiary inspection, commodity export certification, Dutch elm disease work and numerous insect pest and plant disease activities. In this position Norm was the state leader for white pine blister rust control.
Norm became the assistant regional supervisor in Frankenmuth in 1972 where he was responsible for program activities in the thumb area until 1980. He worked regulator and service aspects of insect pests and plant diseases, feeds and medicated feed, seeds, fertilizers, animal remedies, pesticides and commodity storage facility sanitation.
In 1980 to 1989 Norm was the programs administrator in Lansing where he was the assistant to the division director, handling statewide budgeting, procurement and all financial aspects for the division.
From 1989 to his retirement in 1997, Norm was the regional manager responsible for the supervision of departmental activities in the northern 33 counties of the state. While in this position, he was the first recipient of the Michigan Department of Agriculture Commission Excellence Award in 1994.
In addition to being named Mason of the Year in 2001 and his other awards, Norm is active in many church and natural resource organizations. He enjoys outdoor sports, working on his computer and travel.
Norm and his wife, Mary, have a son and a daughter and one grandchild. They live in Traverse City, Michigan.
Norm was inducted into the School of Forest Resources and Environmental Science's Honor Academy in 2002.