Mitchell Schuh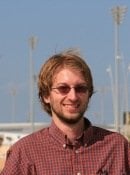 BS Electrical Engineering Technology 2009
Alumnus Mitchell Schuh is on the sunny side of the street these days--a street that has taken him afar. A native of Kingsford, Schuh works in the construction industry in the city of Abu Dhabi, the capital city of the United Arab Emirates. He has traded Portage Lake for the Persian Gulf, the north woods for the desert, and the Rozsa Center for the Ferrari World Theme Park, which will be the world's largest and will sport his work: he installs, programs, configures, tests and commissions audio, video and lighting automation systems.

Schuh graduated in May and said of his education: "It got me where I needed to be to go out in the workforce and do what I do. It made me a leader and gave me the skills to think on my feet—sometimes on my toes. "
He said his education proved to be well-grounded and well-rounded. He graduated with a bachelor's in electrical engineering technology. ("I understand electronics.") He had a minor in music technology. ("I know what sounds good.") And he worked on productions at the Rozsa: ("I know how to install it.")

At the behest of a friend, alumnus Ken Shower, who graduated in 2007, Schuh took his skills to Abu Dhabi, population: 800,000. The work suits him. His father is a Tech alumnus who graduated with a bachelor's degree in electrical engineering in 1989. Said Schuh: "I was brought up from childhood to look at the world as an engineering problem."
As well, he had a creative side. "Music was a really good hobby," he said. He plays the piano, guitar and most band instruments. While at Tech, he was a member of the Keweenaw Symphony Orchestra and the Concert Choir. He also was student director of the Pep Band.

All of it, along with his technological interests, coalesced in an education that he treasures and a start on a career that he cherishes. He calls his work "a niche industry" that is in "very high demand." His responsibilities typically include ballrooms and nightclubs. He has worked on the Yas Marina Hotel. He recently took a side trip and outfitted a nightclub in a casino in El Jadida, Morocco. He is working on the Ferrari Theme Park, a behemoth that will have 19 attractions overall, including indoor roller coasters. Next: he will move on to the Burj Dubai, the world's tallest building (2,684 feet).

Schuh described himself as "young and energetic," and he works 15 hours a day. "It's been very, very busy," he said. "Exhausting work, but fulfilling work." He recalled thinking that the regimen at Tech was at a "high pace." "It's nowhere near like the real world," he has discovered. He says of the emirate of Dubai: "It's very much a place to work."
His employer is Bond Communications, out of Abu Dhabi, which has 1,100 employees. When he was at Tech, he envisioned starting out his career with rudimentary "grunt work" for 10 years. "It blows my mind I'm doing this seven months after graduating."

He oversees technicians and tradesmen, most of whom are male. "It's very similar to Tech in that respect."

He's been in Dubai since August 10. He describesd it as "a busy, bustling city." The dominant languages are Arabic and English. But there are many tongues because the majority of people are like he—expatriate workers, most from the Middle East, Europe, and northern Africa. He says the city is much like those in the US: supermarkets, shopping centers, and traffic jams; his commute is an hour each way. His recreation is travel. He's been all over the region.
He said, "Americans tend to think of the Middle East as one location, with bombings and bad stuff happening all the time, everywhere. I feel just as safe in Dubai walking down the street as I do in Houghton. It's a completely different world from what most people think. No problem walking around with my laptop hanging off my shoulder and a bunch of cash in my pocket. This was a shock. I was expecting a life where you kind of shuffle your feet, keep to yourself, and don't get in anyone's way. But not at all. Everyone's really friendly. Absolutely everyone. I'm really happy over there."

He'd like to work a few more years there and then return to the States for graduate school.

Meanwhile, he basks in the glow of opportunity and success. For when it comes to overseeing audio, visual, and lighting systems, he said, "I'm the guy. There are four people in the company that can do what I do." No bragging here. Just fact.

Schuh visited campus in November, he said he misses the people at Tech—he singled out Aleksandr Sergeyev (SOT), Christopher Plummer (VPA) and Nicholas Enz (VPA)—as well as what he calls the "rambunctiousness" of the Pep Band, which was a high note of his student days.