Mike Dibble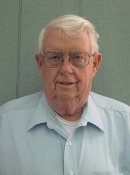 BS Metallurgical and Materials Engineering 1961
Simple Design Equals Smaller Footprint: Rail-Veyor System for Mining (and More?)
As the YouTube video begins, what appears to be a roller coaster approaches in slow motion: a green tube running on light rail tracks encased in bright yellow structure. As the object moves closer, it becomes a modernistic rock train with no driver and unloads into a container, turning upside down in the process. Then, it rights itself, ready to receive another load.
According to its creator, Mike Dibble, this remote-controlled, electric-powered "Rail-Veyor" system is "extremely energy efficient," with a smaller footprint than regular railroads and conveyor systems. It can operate in surface and underground mines or other long-distance transfer operations, including docks, shipyards, and even future UP mining concerns.
Dibble earned his Bachelor of Science degree in Metallurgical & Materials Engineering in 1961. His company, Rail-Veyor Systems Inc., had its original demo plant designed, built, and operated through a grant provided by the Florida Institute of Phosphate Research (FIPR) in 2000 and 2001. It was the rare R&D project that actually met all objectives "right out of the box," according to the FIPR director. After the system began to be commercialized, a second, larger-scale demo plant was built in South Africa, where the first commercial operation began in 2007. Now there are three trains operating there.
"This four-year timeline from demo plant to commercial operation is unique in the mining business," Dibble says.
In the Rail-Veyor system, the train is moved along by fixed drive stations, spaced slightly less than the length of the individual trains, which can range from 100 to 400 meters in length. All Rail-Veyor cars have drive stations that provide forward motion from the friction of horizontally rotated truck tires. (Think of the baseball- and football-throwing machines.)
"It is this drive system that allows the Rail-Veyor to climb grades of 20 percent or more," Dibble says. And that can be some twenty times better than conventional railroads.
"The track system can be operated as a shuttle or a continuous loop. Anchored by the drive stations, it minimizes the need for conventional sleepers (ties) or ballast (the crushed stone where the sleepers sit)," he says. "And, since there's no heavy drive car, the track loading is low, allowing the use of lightweight rails."
The connections between cars allow articulated movement between them, Dibble says. The ability to climb steep grades with a thirty-meter turning radius, coupled with a small front end, allows the system to go under, over, or easily avoid obstacles. Other advantages include more efficient energy use since the drive stations only operate when a train is present and shut down when not in use.
"The automated operations means no direct operator intervention is required," he says. "The system is environmentally friendly as it is quiet, has low visibility, and use nonpolluting electrical drive motors."
Projections by an underground mining company indicate the Rail-Veyor system can reduce their operating costs 40 to 50 percent versus conventional shaft mining operations.
The Rail-Veyor system is maintenance friendly: a defective drive station, which uses "off-the-shelf" equipment, can be pulled and replaced in minutes rather than hours. In multi-train units, a single train can be sidetracked for preventative maintenance, allowing the others to continue operations. (So far so good in South Africa, with three years operating and no failures.)
As for safety, Dibble says the fact that the train is sneaky quiet means the lead car should be equipped with strobes, sirens, even a transmitter, to preclude any run-ins with moose or other large creatures, wherever in the world they may occur.
And other operations are very interested. Dibble is not saying, but there could be a day when these lean, mean hauling machines are pulling their weight around the globe, including the UP, and leaving much less behind.
by Dennis Walikainen, senior editor From Tech Today, August 6, 2010