Larry Golin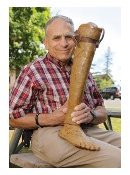 Larry Golin is at Michigan Tech for his fiftieth class reunion, and he confesses that he hasn't seen many familiar faces on campus. This is probably because most members of the Class of '58 aren't from Bangladesh, or Bengal, or Brazil, and most of them have two reasonably good legs.
Golin is walking a different road, one that began at Tech in 1956 with an overwhelming conversion experience. "I went to sleep, and when I woke up in the morning, my whole life had changed," he says. "From then on, it's been a blessing, and a blessing, and a blessing."
He found himself called, both to spread the Christian gospel and to help the helpless, regardless of their faith.
However, it wasn't immediately obvious that he should establish a mission to provide the poor of Bangladesh with artificial legs. After earning a BS in Forestry, Golin got a regular job as a state forester, but it didn't take him long to find out he was in the wrong profession.
"I thought, 'What in the world am I doing here in Hawaii, measuring these puny ohia trees?'"
Thus began his life's work, caring for the handicapped and poor in East Pakistan, later to become Bangladesh. For the last forty-one years, Golin has provided physical therapy services there and throughout the world through his Ministries to the Disabled, with the support of his family, which he considers his greatest blessing: wife Jane, four sons, and two Bangladeshi daughters whom the Golins adopted after they were orphaned. read more at
http://www.mtu.edu/umc/services/pr-news/magazine/winter0809/stories/let-stand/
Excerpted from Michigan Tech Magazine, Winter 2008-2009