Kristin Tolentino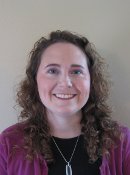 BS Electrical Engineering 2001
Alumna finds her dream and her niche.
When she was but a youngster, Kristin Nelson Tolentino, of Ashland, Wisconsin, had a dream of working at Disneyland.

So where does this 2001 alumna, age thirty, work these days?

At Disneyland, of course.

"I'm sort of amazed by it," she says.
She sums up the job as showing people a good time: "It's exciting every day to create magic for the guests. The direct result of my work is the happiness of people that are visiting. It's a big show. That's what we do."
Tolentino is an electrical engineer at Disneyland. Her duties range from powering the roller coaster, to providing temporary electrical needs for special events, to building a database for the electrical systems—all in all a formidable undertaking, "given all the shows and attractions."
She's in her element. Back in northern Wisconsin, her family was in the electrical contracting business. "I was working at Radio Shack when I was fourteen," she says.
Before her senior year of high school, she attended Tech's Women in Engineering program, got her first exposure to engineering, liked it immensely, and enrolled as a full-time student in 1997.
Her fondest memory of her college days? Winter Carnival
The hardest part? "Generally, Michigan Tech is not in the sunshine."
She vowed, upon graduation, to go someplace warmer. She ended up in California working in industry for six years before joining Disneyland.
She says Tech prepared her well for her job. She especially liked the small classes and the approachable faculty. "It was a well-rounded, excellent education," she says.
Besides the math and engineering regimen, she studied Spanish and theater. "All those skills carried over with me," she says. "They seem unrelated, but I use them every day. They come back to help you in the future." One advantage of a Tech education: good communication skills. "In the business world," she says, "it's an impediment if you are not able to express yourself."
As well, she attributes her success to "hard work, determination, and perseverance."
"I've always worked hard. I just keep at it. I like to do a good job and fix things. I'm a perfectionist in that respect."
Throughout her life, she has been inspired by "smart people." "I always wanted to be like them."
Now she is, but deflects attention. "I appreciate all the support of the people around me—my parents and my husband, Brandon. I'm really blessed."
Fortunate, also, to be in sunshine of California instead of the snowbelt in Upper Michigan. She's a gardener, and she is still astounded that she can grow winter vegetables. "Amazing." It's a bit like Disneyland, which bills itself as "the happiest place on earth." For her part, Tolentino is content and would be no other place.