Jill Recla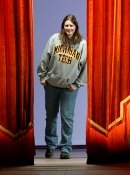 Chronic pain research engages 2007 alumna
Jill Recla, who graduated in 2007 with a bachelor's in bioinformatics, has had an abiding dream since high school, when she told her best friend, who was suffering from chronic pain, "Don't worry. I'll save you." Looking back, she sums up her goal simply and ambitiously: "I decided I was going to cure fibromyalgia syndrome."
The pursuit still engages her ten years later: "It was a good call. My ambition was right."
That's because Recla is immersed in research on the genetics of acute and chronic pain at the prestigious Jackson Laboratory in Bar Harbor, Maine. She is purposeful and content: "I enjoy my work. I love my life."
Recla is conducting her research at The Jackson Lab through the predoctoral program in functional genomics at the University of Maine's Graduate School of Biomedical Sciences in Orono. She also works with the Mouse Genome Informatics Group at the The Jackson Lab.
She says of these opportunities: "Michigan Tech is the reason I got to where I am."
Recla is from Kingsford, Michigan, and many in her family attended Tech: parents, uncles and aunts, cousins and siblings. So she trekked north with high expectations, which were met. "Tech was everything I hoped for and then some," she says. The hardest part? "Excelling at the level expected of me"—this while enjoying a lively campus life, including four years in the Pep Band.
Always a self-starter, Recla, with an eye on helping her friend, designed an independent study project in high school on fibromyalgia. Tech's bioinformatics program, which blends biology, mathematics, and computing, followed. "It was a good next step." She says the program was challenging: "Tech's curriculum is not easy." When she signed on, the program was relatively new. "It blossomed," she says. "The faculty are working hard to make it the best program it can possibly be. I was very well prepared for graduate school."
After her freshman year, she earned a select appointment to The Jackson Lab's Summer Student Program. She says Tech's solid reputation at the facility preceded her. Her mentor during the summer program was alumnus Joel Graber '87, an associate professor at the lab.
Recla was a prize candidate for the summer program. Based on her application, she received a score of 1.5. The top score of 1 is rare and means "you can walk on water." A score of 1.5 is "unheard of." Why the .5? The program director explained: "She can walk on water, but sometimes she has to run."
Her independent study; her summer internship; her degree from Michigan Tech: it all fell together for her. She sums up the experience: "It spiraled upward." She believes she is positioned in the right field—that computational biology will be "the next wave of the future" in pain research.
Her interests have "branched out"—she wants to develop software related to genetic research—but she remains interested in chronic pain.
She says there are two kinds of pain: acute and chronic. Acute pain, she says, is a good thing. "It keeps us from burning our hands when we touch a hot stove. We learn to pull away." Chronic pain, she adds, can be said to serve no useful purpose. "It is pain, in the absence of a detectable stimulus, that lasts longer then three months."
Recla always had a hunch that there is a genetic component in chronic pain, and research has now pinpointed some 300 genes involved in pain in mice, which are now beginning to be validated in humans. "Pain sensitivity has a clear genetic component," she says. "In people, as well as mice and other animal models, certain genetic variations make some individuals much more likely to experience chronic pain."
As well, there might be a gender component. She notes that 70 percent of chronic pain patients—including those suffering from arthritis and fibromyalgia—are women. Therefore, she says, there may be a hormonal aspect. For the moment, she adds, "We know gender plays a role, but the details of why and how are mostly speculative. We still have a long way to go."
As she negotiates that path, she describes herself as "very driven," but she is not surprised by her success. "I knew I wanted to apply bioinformatics to genetic pain research," she says, "and here I am." Her abiding guideline: "Do what you love, and do it to the best of your ability."
It seems that she does that in a painstaking manner. Recla's primary mentor at The Jackson Lab, Dr. Carol Bult, describes her as a "once-in-a-lifetime" graduate student. "She's very motivated to make a difference in people's lives, and I have no doubt she's going to lead the field of pain research someday."
Meanwhile, Recla says, "I'm doing my best to showcase and promote Tech through word of mouth and my accomplishments."