James Cooper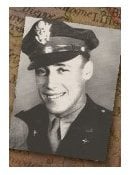 BS Metallurgical Engineering 1939
During World War II, James Cooper '39 cheated death. In a bomber over the flak-fierce skies above Germany, his plane was hit by anti-aircraft fire. The bomber and its crew of ten had to crash-land in a field in Holland.
"The day we went down, the group lost two planes. There were no survivors of the other plane. Everyone in our crew survived."
Lucky?
"Yes, yes," he says, even though he ended up a prisoner of war for ten months — a time of tension, boredom, loneliness, and misery.
Cooper graduated from Michigan Tech with a bachelor's degree in metallurgical engineering. He went to work in Arizona, then enlisted in the Army Air Force (a precursor to the Air Force), where he was a navigator on a B-24 bomber, called a Liberator. Cooper was in the 448th Bombardment Group that, between December 1943 and April 1945, flew 262 missions and lost 460 men. Read more...
Excerpted from Michigan Tech Magazine, Fall 2008