Greg Ives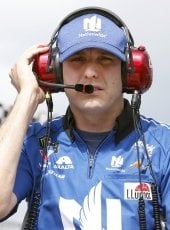 AAS Mechanical Engineering 2003
For Michigan Tech mechanical engineering graduate Greg Ives '03, the 2018 season marks his fourth year as crew chief for the No. 88 Hendrick Motorsports team. Ives, who is originally from Bark River, MI, developed a passion for racing from a young age.
"I grew up with my dad and brother racing," he says. "When I was young, I had to clean the inside of the car before it left for the track and clean the barn we had for a garage. As I grew older, I was smuggled into the track to help out. On my 16th birthday, my brother gave me an opportunity to drive."
After graduating from Michigan Tech in 2003, Ives began work at Hendrick Motorsports for the No. 24 team of four-time NASCAR champion Jeff Gordon as a shop mechanic. Following this, Ives was offered a traveling position as a race engineer for the No. 48 team in 2006. In seven years with the No. 48 team (2006-2012), Ives took part in 42 wins, 113 top-five finishes and 21 pole positions. In November 2012, Ives began work at JR Motorsports as a crew chief for driver Regan Smith. The duo earned two victories, eight top-five finishes and 19 top-10s on their way to a third-place finish in the 2013 Xfinity Series standings. In 2014 Greg was teamed up with Chase Elliott at JR Motorsports. The duo garnered 3 wins, 15 top fives, and 25 top-10 finishes that season. They also captured two pole awards. The team went on to win the NASCAR Xfinity Series Championship that year, with Greg as the crew chief.
Following his run in the Xfinity Series, Ives returned to Hendrick Motorsports as a crew chief for Dale Earnhardt Jr. In 2015, Ives earned his first Cup victory as a crew chief on May 3 at Talladega Superspeedway.
In his first Cup season, Ives received the 2015 MOOG Problem Solver of the Year award, which goes to the crew chief who posts the best overall performance, most consistently demonstrates problem-solving excellence and wins the most Problem Solver of the Race awards.
Starting with the 2018 season, Ives was paired with Hendrick Motorsports driver Alex Bowman. Ives currently lives in Davidson, North Carolina with his wife and three kids.
June 7, 2018