Douglas Parks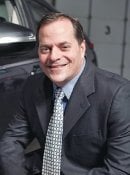 BS Mechanical Engineering 1984
Changing fuel consumption, monitoring energy usage, and enhancing safety are the focus of hybrid vehicle manufacturers around the world. Doug Parks ('84) achieved those goals while working on the Chevy Volt at General Motors as the Global Vehicle Line Executive and Chief Engineer for Global Electric Vehicles.
For the Chevy Volt, Parks was responsible for maintaining product quality and remaining on budget in both the engineering and manufacturing processes, while also working through challenges to establish the Voltec propulsion system—the first system of its kind produced in the industry. His experience with the vehicle product line at GM ranges from the Chevrolet Cobalt to the Pontiac Solstice.
Following graduation from Michigan Tech, Parks joined GM as a tooling engineer before being appointed chief engineer. Today, he serves as Vice President of Product Programs, where he supervises twelve executive chief engineers who each operate their own product program from inception to production.
This profile appeared in the ME-EM 2013-14 Annual Report