Darnishia Slade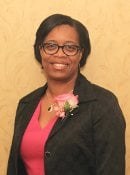 BS Business Administration 1998
Darnishia graduated from Michigan Tech in 1998 with a bachelor's degree in Business Administration and a certificate in International Business. Upon leaving the University, she spent two years with the Up With People - Worldsmart International Leadership Program as a student and the Education and Community Service Coordinator. Following this she worked for the Boys and Girls Republic Treatment Facility in Farmington Hill, MI and then in 2002 worked for Mosaic Youth Theater of Detroit as Youth Support Director.
Darnishia returned to Michigan Tech in 2005 and continued her Michigan Tech legacy by accepting a position as Regional Admissions Manager in Southeast Michigan. In 2012 she put her International Business Certificate to good use moving to Tech's International Programs and Services Department. She currently serves as the Interim Director for the department while simultaneously pursuing her second Tech degree, a Doctorate in Applied Cognitive Science and Human Factors.
As a student, to say she was involved is an understatement. She belonged to the Society of Intellectual Sisters, the Black Student Association, the Echoes from Heaven Gospel Choir, the National Society of Black Engineers, the Women's Programming Committee, and the Racquetball Club. She also served as a Resident Assistant and was involved with WMTU radio on campus. As a student, she was a recipient of the Percy Julian Leadership Award and the Clair M. Donovan Award for Outstanding Service.
As an alumna, Darnishia has remained very active with Michigan Tech serving on the Alumni Association's Board of Director's since 2008. She just finished her term as President, only the second woman and first African American in the role. She will spend the next two years on the Board as Past President and was recently selected for the Board of the Keweenaw Alumni Chapter. She also served on the committee which planned the first Women of Michigan Tech celebration event in 2012.
Darnishia makes her home in South Range, Michigan. She enjoys quality time with family and friends. Her favorite pastime is watching a good comedy and serving as a volunteer Minister at Lighthouse Faith Center in Calumet.
In 2014, in recognition of her significant achievements, Darnishia was inducted into the Presidential Council of Alumnae. This profile appeared in the induction program, September 19, 2014.