Danielle VanDyke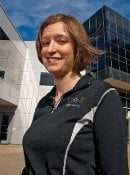 A generous scholarship and Michigan Tech's reputation as a good school for students interested in science, technology, engineering, and math (STEM) fields brought Danielle VanDyke to Houghton. She graduated in 2006 with dual BS degrees in Computer Science and Psychology. VanDyke credits the University with teaching her leadership and team-building skills, improving her communication skills, and encouraging her to seek new challenges every day.
As a senior software engineer at Google in Silicon Valley working on mobile display ads, she's putting those skills to good use.
"I love that I can create a product out of nothing, using just my mind, a computer, and the Internet," she says. "Every day, my work is seen by 100 million smartphone users. The part I love most is that every day brings different challenges and new ideas to make our products better, and I can contribute to all parts of the work."
Valuing how far her Michigan Tech education has taken her, she also pays it forward. In 2010 she helped the late Bob Mark, a professor of practice in the School of Business and Economics, arrange a trip for students to Silicon Valley to meet with some of the legendary executives there and see for themselves what their futures as entrepreneurs might hold.
VanDyke doesn't recall any overt sexist behavior from professors, administrators, or other professionals at Michigan Tech. "There certainly was some unenlightened behavior from other students from time to time," she says, "but it was just part of a 'dude' culture pervasive at the time."
It wasn't until she decided in her junior year to add a second major in psychology that VanDyke confronted the feeling of not belonging. "Half the room was female, and I felt more like an outsider than I did in the computer science labs with my guy friends," she recalls.
After she graduated, Michigan Tech began sponsoring women to attend the annual Grace Hopper Celebration for Women in Computing. VanDyke sees that as a strong commitment to diversity. "The University understands the importance of students networking with professionals who understand what it's like to be the one girl in the room," she says.
This profile appeared in the Spring 2012 issue of Michigan Tech Magazine, Vol. 49 #1