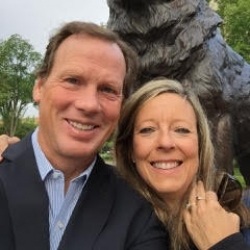 Jim '81 and Jean '82 Parm want Michigan Tech students to receive an exceptional experience. That's one reason why they decided to give back by creating the James and Jean Parm Endowed Scholarship.
"We love Michigan Tech and wanted to give back to the institution that means so much to us and started us off on our careers," Jim says. "We believe strongly that outstanding students make an outstanding university and we wanted to invest in continuing to bring outstanding students to Michigan Tech."
Jim says with the increasing cost of higher education scholarships are needed more now than when he and Jean went to school. "We wanted to support students so they could have the same wonderful Michigan Tech experience that we had and the same excellent start to their careers."
Growing up in North Dakota, Jean worked with her math department's computer in high school and decided to pursue a degree in computer science. "Michigan Tech gave me the skills needed to have a rewarding career in the field I loved," Jean says. "It also gave me the confidence to compete within a male dominant field."
After college, Jean worked as a computer programmer, lead programmer and system analyst for Harris County Texas tax office. When the couple moved to Louisiana, she was a system analyst with SEMA, Inc., a software management company. When she and Jim adopted their son, Carl, she became a stay-at-home mom.
Jim, who earned a degree in electrical engineering from Michigan Tech and his MBA from Tulane University's A.B. Freeman School of Business, says growing up he enjoyed math, science, and problem solving. At Michigan Tech, he focused on computer engineering, control systems, and microprocessors.
"Michigan Tech was the launch pad for my professional career," he says. "Tech gave me the skills and the confidence to successfully take on my initial engineering roles. My time at Tech started me on a lifelong quest to continue learning and development."
Jim is currently a partner in Inc. CEO Project, where he advises CEOs on business strategy. Prior to joining Inc. CEO Project, he was president of Inmarsat Solutions, a London-based satellite communications company. He also was the president and CEO of Stratos, Inc., a global satellite service company where he oversaw strategic direction and global operations; and of Shell Offshore Services Company, a telecom startup that provides remote communication services to the energy industry, where he led strategy development and execution.
The couple lives in western Florida where they enjoy golfing, boating, fishing, kayaking, bicycling, and scuba diving. They also like to travel and visit the Washington, DC area to see their son, Carl, who works as a financial analyst.
"Scholarships show community, letting me and other recipients know that others are supporting my education and hard work."