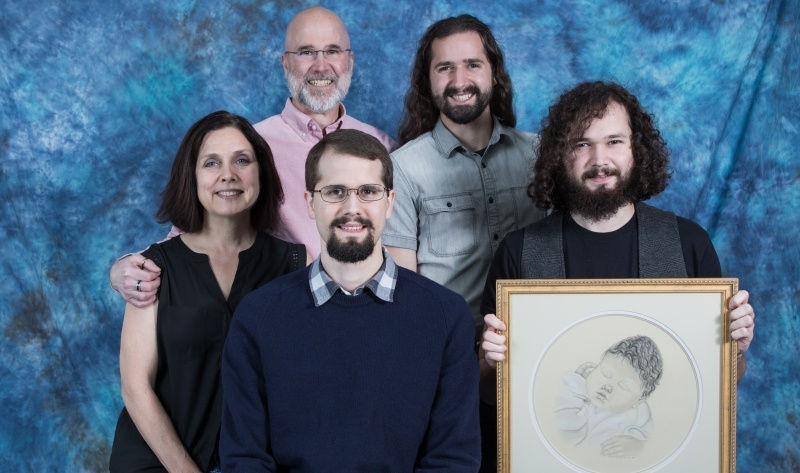 Thomas and Suzanne Fedorka give back to help students receive an education at Michigan Technological University, but their gift also honors the life of their daughter, Amanda.
The couple, who met at Michigan Tech and are both 1984 graduates, created the Amanda Fedorka Memorial Endowed Scholarship, in honor of their first child and only daughter who was stillborn in 1988.
Thomas says they had always wanted to set up a scholarship in Amanda's name. "We have been truly blessed and want to give back to help others," he says.
The Fedorkas have three sons, each knowing they had an older sister. And, when they started college, starting a scholarship was a natural fit.
"We realized we could use our love for her and her albeit brief presence in our lives to bring happiness to others who would see donations in her name," Suzanne says. "We wanted to help someone like ourselves or our children to benefit from Michigan Tech."
Now their oldest son, Benjamin '11 '13, helps support the scholarship as well. "It has turned into a family effort," Suzanne says.
For Thomas and Suzanne, Michigan Tech shaped their problem-solving skills, laid a deep foundation for engineering, and taught them to be diligent and hard-working to achieve goals while forming lasting friendships.
"When I entered the sanctuary for Amanda's funeral, we expected to only see family for our stillborn daughter," Suzanne says. "Instead we saw a room filled with family but also Phi Kappa Taus, Alpha Gamma Deltas, and many non-Greek friends."
Thomas, who earned a bachelor's in mechanical engineering, says community and the education he received at Michigan Tech formed his career path. "The hands-on labs and learnings resonated with me. I learned by doing."
After graduating Thomas' career led him to Ford Motor Company to Campbell-Hausfeld to Kirby Vacuums to Panasonic. And, he earned a master's degree in mechanical engineering. He moved into engineering management, working with teams of engineers to launch innovative products and receive many patents.
In 2010, Thomas joined Keurig Green Mountain near Boston, Massachusetts to run the company's research and development department. One of his products, Keurig Kold, a single serve carbonated drink maker, was commercialized but did not succeed. That led him to his current position as vice president for appliance for a joint venture between Keurig and Anheuser-Busch. He is doing research on a single serve alcohol beverage machine for consumer use.
The couple says their family enjoys reading, visiting museums, euchre, cars, music, and baking. Thomas races and modifies cars and Suzanne enjoys riding in the convertibles.
Suzanne earned a degree in wood science, influenced by her week at Tech's Women in Engineering program. She worked at Champion Wood Products before staying home to raise her sons, encouraging them to test their Lego and K'Nex designs and discussed basic engineering principles.
That led her to teaching. Suzanne earned a bachelor's in middle school math and science and a master's in gifted education and worked as a science teacher and a gifted resource teacher at the middle school level. "My teaching career was based on the experiences I had from Michigan Tech and Amanda" she says. "I realized how fragile life is and how every child should be cherished. I gave a listening ear or a hug. I also could identify and encourage engineering potential, speak about how scientific collaboration develops, and shape those problem-solving skills in students."
Thomas says he and Suzanne are grateful for Michigan Tech. "Michigan Tech has always felt like home to me," he says. "The beautiful setting attracted me to Tech, the rigorous education kept me there."
"Without scholarships I couldn't do this. They (the scholarship donors) don't know me but they believe in me to invest in me. There are good people who believe in my life. "