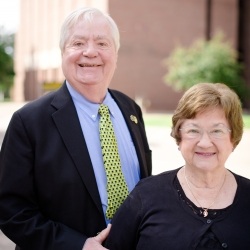 John '67 '76 and Joan Calder give back to Michigan Tech to support students and faculty.
After receiving a bachelor's degree in 1967, Calder accepted a position as a design engineer with Dynapar Division of Litton Industries and began to design control systems, converting them from analog to digital.
Calder worked in industry for several years, but the couple missed Houghton and the Upper Peninsula. He decided an advanced degree was necessary to move forward in the company. He returned to Michigan Tech and earned a master's in business administration.
"I returned to Dynapar and worked my way up and enjoyed the challenge, but Michigan Tech had awakened the desire in me to run my own business," he says. Leadership and business know-how also was learned during Calder's time with the Sigma Rho Fraternity.
Calder joined Dorsey-Alexander Inc. in Ohio with the intent to purchase the company. And, he did in 1992 when the company became Cincinnati Controls; the couple sold the business in 2010 to employees.
And, that's when the Calders checked off another item from their "must-do" list. Giving back to Michigan Tech.
They created the John F. and Joan M. Calder Professor in Mechanical Engineering-Engineering Mechanics (ME-EM), which is currently held by Dr. Jeffrey S. Allen.
Calder says as the state provides less financial funding, alumni and friends need to support Michigan Tech. "We need to help keep the tuition at affordable levels to attract the best and brightest students. The endowed chair also helps attract and retain the best and brightest faculty such as Dr. Allen. You need a great institution, great faculty, and great students to maintain balance and be successful."
The Calders also established the Calder Systems and Control Laboratory in the Department of Mechanical Engineering-Engineering Mechanics, to provide hands-on training in electrical controls. "I believe that all of us can find a way to give something back whether it is time, talent, treasure, or a combination."
"The US needs to be an innovation and technology leader and science, technology, engineering, and mathematics (STEM) is critical to that," Calder says.
"STEM is the future of our students, our graduates, and our nation. Michigan Tech has accepted and is leading that challenge, which is why Joan and I give back."