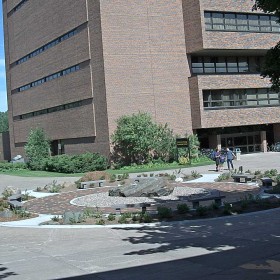 I am on medical leave for a while. I will miss you all, but a group of stellar Michigan Tech personalities have stepped up to write guest columns while I am away.  Today, Alumni Director Brenda Rudiger shares her excitement about the Husky Plaza, part of the Alumni Way. —Dennis
Excitement is brewing at the center of campus.  After a year of planning, a huge boulder has been placed; engraved pavers have been set; students are already enjoying the new benches; lighting and landscaping will soon be installed. And the amazing centerpiece—the Husky statue—is due to arrive in early October.
The Husky Plaza is part of the Alumni Way, a campus mall project that will unify the east and west ends of campus. The project began on the east end of campus by the Library. The new seating area, Rovano Plaza, offers a great view of the Husky Statue.  Additionally, there will be a legacy marker unveiled later this month near the Electrical Energy Resource Center (EERC), sponsored by a long-time community business.
You can visit the Husky Plaza project via a webcam.
This project is one of the most fun things I've ever worked on here at Michigan Tech.  Made possible by the generous support of numerous alumni, faculty and friends, including Dan and Joan Lorenzetti, the Michigan Tech Alumni Association, Roland Huhtala '74 and Pete '53 and Shirley Meyers, the Husky Plaza is going to be a focal point of Alumni Way on campus for past, present and future generations.
A commemorative bench in this area was sponsored by Tech alumna, Lee Thompson '66.  As we continue the project west, there will be additional benches, legacy markers and other Alumni Way features.
Last spring, many alumni and friends also supported the project by purchasing 642 pavers, each engraved with a personal message of their choosing.  For 122 of these supporters, their paver purchase was the first gift they'd ever made to Michigan Tech.  Hopefully it won't be the last.
We've heard some people say that they missed their opportunity to buy a paver, so the Husky Plaza engraved paver program is back—but only until September 21.  If you didn't get your paver, don't miss this second chance to put your message on the Husky Plaza forever. Visit the online form or contact Paula Nutini, 906-487-3609, pjnutini@mtu.edu.
President Glenn Mroz calls the Husky Statue and the Alumni Way that we continue to develop "a constant reminder to prospective students and their families, students, faculty and staff that only a small part of Michigan Tech is here on campus. Much of Michigan Tech exists in the hearts and minds of alumni who live in every state and hundreds of countries," he explains, "alumni who are extending a hand to today's students, saying: 'I value my experience as a proud Michigan Tech Husky, and you will too!'"
I invite you to learn more about the Alumni Way online.
Brenda Rudiger
Executive Director of Alumni Relations
and the Michigan Tech Alumni Association