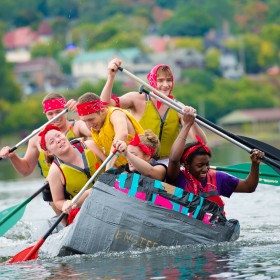 I am on medical leave for a while. I will miss you all, but a group of stellar Michigan Tech personalities have stepped up to write guest columns while I am away.  Today, Athletic Director Suzanne Sanregret shares the details on Homecoming festivities —Dennis
After we watched a questionable weather forecast all week, Homecoming Saturday in Houghton turned into beautiful day for football.  At least 2,200 fans flocked to Sherman Field, eager, ready to see their team snap a seven-game skid in the series versus Saginaw Valley State.  And the Huskies came through. They delivered a barn-burner, overcoming a 12-0 first-half deficit to defeat Saginaw Valley 26-20.
Michigan Tech Homecoming is an annual week-long celebration on campus, crowned by the Homecoming football game. Not unlike campuses across the nation, Homecoming at Tech brings students, staff, alumni and community members together to celebrate school spirit.
Michigan Tech's Homecoming has many longtime traditions that have made it special: the crowning of the Homecoming king and queen, root beer floats, competitions between student organizations, a parade. It also has newer traditions that have really taken hold, such as the cardboard boat race that has become one of the highlights of Homecoming, featuring dozens of cardboard boats that must each carry a minimum of eight people.
The week of festivities winds up on the gridiron of Sherman Field. The Huskies played their first Homecoming football game on Oct. 19, 1929, a scoreless tie vs. Northern Michigan University. Over the years there have been 76 Homecoming football games. Tech has posted a record of 45 wins, 30 losses and two ties in those contests, winning 9 and losing 2 over the past 11 years.
Saturday's win keeps the Huskies atop the GLIAC North standings. Go Huskies!
Suzanne Sanregret '93, '06
Athletic Director