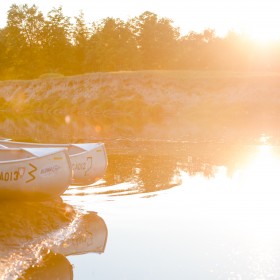 Driving to work is a bit brutal these days. Which is probably hilarious to those of you who have to commute in an actual city.
And I don't completely mean because of the bridge construction, which seems to back up traffic more than a mile each direction at rush (half) hour, something that brings out the inner Chicagoan in all of us. Or in me, at least.
No, it's that time of year when driving along Hancock Street towards the bridge means a bright, low sunrise more or less blinding you. It's gorgeous, but it makes things like brake lights hard to see. That's bad.
What's funny about that to me is this is also the time of year with the best sunsets as far as I'm concerned. I took the opportunity this weekend to catch not one but two sunsets at McLain State Park, both nights abundantly clear, plenty warm, and with low wind. The water is warm for Lake Superior, and there are a few flat, rough rocks I like to stand on. If you haven't been along the shore of Lake Superior as of late, the water level is rather high right now—I don't know why, but that seems like a good thing—and the beach is quite narrow these days. It just feels more intimate, like there's less expanse at your back as the sun sets before you.
But that melancholy of fall is in the air, too. That realization that the warmest days are past us, memories and experiences more than optimism and anticipation. I really don't know where this summer went, feeling like I never really got to try it, which is a shame to ever feel. The memories are there, though, and those are what we get to keep.
That sunrise is the reminder, much like the dimmer, later, yellow-grey sunrises of winter are that kind of distant memory and future promise.
I suppose that's the funny thing about cycles, the setting and the rising, and what the best things are, the ones we capture and pass on and cling to. What makes us smile. What stories we tell when we see our old friends again.
It's week 3 here on campus, with Homecoming and Family Weekend just around the corner. We're into the swing of things now, the work getting harder, the faces more serious. These are the days that are shorter, the nights long, the work tough. But then we see that bright speck through the clouds between bands of lake-effect snow, and the memories and promises all come back. It's more frequently the dusks and dawns, the flashes of brilliance and of color, that we remember ten years later.
Elsewhere:
Check out this issue's slideshow for a good flavor of what's happening on campus. Literally. Between the photo of the fruits (and vegetables) of the Wadsworth garden to preparing for Khana Khazana—the weekly international lunch held on Fridays in the MUB food court—to Parade of Nations and the Multicultural Festival that follows, there was a lot of deliciousness to be had.
You'll also note that I've (finally) changed the header image. Scott Shannon, who not only did so much work on the layout stuff but also taught me how to do all of this, did point out to me that we've been celebrating 20 years of TechAlum, according to the header image, for a bit over two years now. I told him it was just a really big celebration.
I've included a number of athletics stories this issue, trying to give you a glimpse on how all of our teams are doing. Volleyball is in the midst of their best-ever start, undefeated in 2015. Football won for the first time in 20 years at Saginaw Valley State this past weekend. Other sports have been up and down, but we're proud of all of them. The schedules they keep between classes and practice are incredibly intense, and their success at staying balanced and moving forward means more than a box score.
There are also actually two items for Fill in the Blanks this time. I do indeed want your residence hall memories, but there are some other memories I'd like as well.
The campus community lost a treasured member last week with the unexpected passing of Marie Ryding. Marie has been a part of the Tech family since the mid-80s, and would have celebrated 30 years as an employee this November. Many of you will remember Marie from either the Registrar's Office, where she was from the mid-80s to mid-90s, or in Financial Aid, where she's been since. Things really aren't the same here in Admin since, and I know she touched a lot of the lives of our students, too. She was 57.
I got the chance to speak with a few fellow staff members on what they'll remember most. I think something Darnishia Slade, director of International Programs and Services and past president of the Alumni Association, wrote probably speaks for many of our students and alumni:
I have a vivid memory of walking into her office and saying "I need help, I can't stay here if you don't help me!" She typed a few entries on her computer and said "I can help you out a bit." Marie Ryding was not only a colleague but light on dark days for MANY students at Michigan Tech. She is already missed and I can't imagine the Financial Aid office without her calming spirit. I'm praying that her daughter, family, and friends are comforted.
Replies to that post noted that Marie was "a wonderful example of caring, kindness, and putting the student first," that "there is no way I would have been able to make it through school financially without her—I cried many hours in her office and she always made it work," and that "she was a wealth of information and a great asset to those of us who didn't always know what we were doing. And she did it with a lot of patience."
I can think of no better tribute than collecting your stories of Marie to run in TechAlum.
Darnishia said one other thing, too: that she speaks to students about their legacy, about what they leave behind. What will people say about you ten years later?
And that she has no doubt that, ten years from now and beyond, that there are thousands of alumni out there who will remember not only her help, but her kindness, her patience, and her humanity, and that there can be no better legacy than acting in that spirit.
Thanks for reading.