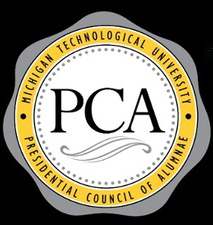 This year marks the 20th anniversary for Michigan Tech's Presidential Council of Alumnae (PCA). With the induction of 17 female grads in April 1996, the Council was established. Over the years, PCA has welcomed 182 Michigan Tech alumnae and on September 22, another 12 will join them as members.
PCA members are recognized for personal and professional achievements in all facets of life, including education and career excellence and community involvement and volunteerism as a Michigan Tech student or alumna. Members meet annually on campus for activities that support the University's strategic plan and specifically focus on engaging the campus community to educate, influence, and inspire the Women of Michigan Tech.
In addition to participating in the annual meeting, members impact the University throughout the year in a number of ways including (but not limited to): serving as role-model speakers in Michigan Tech classes; returning to campus to recruit students and new graduates to work in their companies; serving on corporate or other departmental advisory boards; assisting with fundraising initiatives, including support of the Presidential Council of Alumnae Scholarship program; helping recruit students by sharing the Michigan Tech message to high schools or college fairs in their areas; attending a variety of Michigan Tech Alumni events, both on and off campus.
While on campus this September (22-23), they are partnering with Career Services to host a breakfast and roundtable session for current students. They will share advice and experiences on a number of topics which were pre-submitted by Michigan Tech students and focus on career and job search issues.
Sixty to 65 members will be on campus to participate in the two-day schedule of activities. For more information on PCA, go to mtu.edu/alumni/recognition/pca.