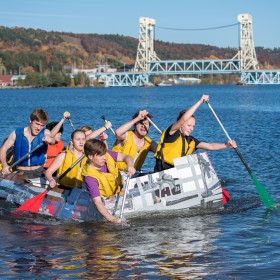 October has been a beautiful month at Michigan Tech. Sunny skies, colorful leaves, and 70 degree temps.
We've checked a couple more items off of our family's bucket list. Last weekend we took a drive down the Covered Road off Canal Road. Beautiful colors. Quiet road. Peaceful. And, we've been to Brockway Mountain to gaze at the peak colors. Stunning.
Another phenomenon on some bucket lists is traveling to Bruce Crossing, Michigan to view the Paulding Light. Have you done that? Here's the latest story about a famous Michigan legend.
Continue to send us your bucket list items by the decade. You can add your items here.
Tech traditions continued this past weekend with Homecoming 2017. Husky athletics. Harry Potter-themed festivities. Cardboard boat racing. A homecoming tradition, student groups paddled vessels made of nothing more than cardboard, tape, and paint in the chilly waters of the Portage Canal. And, they checked off #65 on their Husky Bucket list with cardboard boat racing.
The Hockey Huskies took to the ice Friday night against Alabama Huntsville, winning the game 5-4. They lost against Alabama on Saturday night. On Saturday, alumni, friends, and fans attended the Tailgate Party prior to the football game where the Huskies took on Wayne State at Sherman Field, with a tough loss 20-14 against Wayne State. Read more about Husky sports.
Sarah