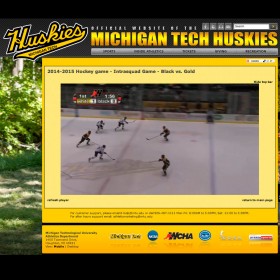 I am on medical leave for a while. I will miss you all, but a group of stellar Michigan Tech personalities have stepped up to write guest columns while I am away.  Today, Director of Athletics Suzanne Sanregret shares how you can follow the Huskies online. —Dennis
Michigan Tech fans can follow the Huskies in high definition via Internet video streaming—no matter where in the world you call home. Michigan Tech Athletics was a national leader in offering streaming video of live events to fans more than a decade ago, and the service has continually evolved over the years.
All Tech home events in hockey, football, basketball, volleyball, and soccer, as well as select championship events in cross country and Nordic skiing, are produced using largely the same technology as national television broadcasts. Coverage features multiple camera angles, instant replays, score, screen time display and other graphics, and often play-by-play announcing.
The production quality has come a long way since Michigan Tech began video streaming with one camera in standard definition in 2003.
"We've invested heavily in our video production so that people around the world can keep in touch with the Huskies," said athletic director Suzanne Sanregret. "Having a high-quality production of our events benefits not only alumni, but fans and families of our student-athletes."
Tech's video production took a huge jump prior to the 2013-14 season when it installed a four-sided video board in the John MacInnes Student Ice Arena. New cameras and a dedicated production room in the ice arena were part of the project. Connecting the SDC Gym and Sherman Field to the production room through fiber optic cable allowed the facility to be used for all sports.
Michigan Tech streams are available on two different platforms. Hockey is available through a league-wide initiative at WCHA.TV. Daily, month-long, or annual subscriptions are available and include access to all league games for that time period. All other streamed sports are available at HuskiesLive.mtu.edu. Fans can follow their team with a single-game or season package or get all Tech events with an all-access pass.
Suzanne R. Sanregret
Director of Athletics