Hi,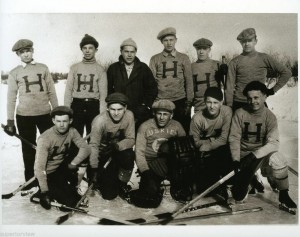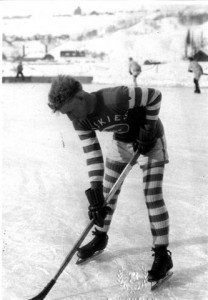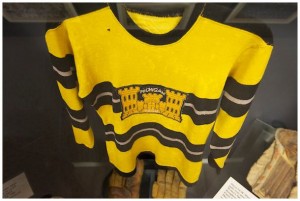 I am hoping my fellow alumni can help me with a research project.  I am trying to determine if the two attached jersey styles were worn by the Michigan Tech varsity hockey program and if so, during what year(s).
The black and white images of the hockey sweaters with "HUSKIES" and the husky head and the front are likely from the varsity team.  My best guess is the late 1920s as one photo found online was noted as "Curly Kolehmain 1927-MCM".  Any other images of this jersey style out there in someone's scrapbook?  Anyone have even a partially colored image of one of these jerseys?
The jersey with the castle on the front does say "Michigan Tech" however the jersey crest looks like the Army Corps of Engineers logo.  So maybe this is something related to MTU ROTC rather than varsity hockey.  The image of this jersey was taken at Dee Stadium so maybe there are more details shown below the jersey, but unfortunately they were cropped out of the image.
Any info others can provide about these two sweaters would be appreciated.
Ryan Johnson
BSME '98
–
Hello,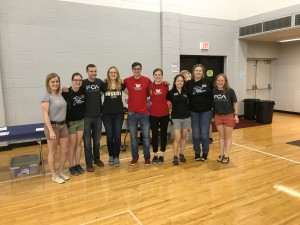 I just wanted to share a picture that was taken this past weekend at the 2017 Southeast Michigan Science & Engineering Festival Mind Trekkers' event at Schoolcraft College.
In the picture from left to right:
Courtney Rickard: '15, previous CPCO Coordinator & Mind Trekkers President
myself: '15, current Mind Trekkers Coordinator and previous Eboard member
Michael Braun: ('15?) currently works for FCA who was a partner of this event, past Mind Trekkers eboard member
Allison Wysocki: '16, was a member of Mind Trekkers when she was a student
Wesley Cialek: '16, currently works for Toyota Boshoku who was a partner of this event.
Victoria Keerl: '16, currently works for Toyota Boshoku (she actually coordinated their presence at this event, and is a previous Mind Trekkers eboard member
Liz Fujita: Fall '12, currently an Assistant Director for the CPCO, and previous Mind Trekkers president
Lauren Kirwin: Fall  '16, current CPCO coordinator
Samantha Kallman: '15, currently works for FCA
Not pictured was Cameron Long ('13) who also joined us later in the day to Trek as well!
Once a Husky, always a Husky! Once a Trekker, always a Trekker!
Have a great day,
Jannah Brandt, Michigan Tech
Mind Trekkers Coordinator, Center for Pre-College Outreach
-Thanks for sharing the photo Jannah! -SW
Great info…..thanks
Leonard Altobello
Hi Sarah. Great news! Wonder about the headline. How can more Huskies attend when you have to be first attending to be a Husky? It's good to know more people want to attend Tech. They'll get a great education. I'm a parent of a very successful Tech grad. Keep on doing a great job, Sarah.
David Block