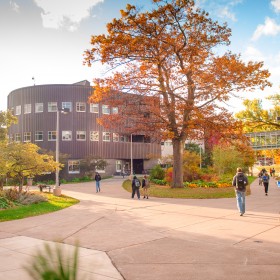 While the leaves in the Keweenaw haven't reached peak color, they are changing.
We are starting to see more reds, oranges, and yellows. Cooler temps. Football games. A full moon. And, bright blue skies. Fall at Michigan Tech.
Michigan Tech writer Kelley Christensen recently wrote an article about peak leaf color and the science behind it.
Read her story Trees Prep for Peak Color.
And, please share your favorite fall memories and photos from Michigan Tech or wherever you have roamed, Huskies.
Send those to me and we'll publish them.
Sarah