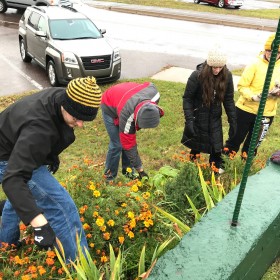 More than 682 Michigan Tech students participated in this year's Make a Difference Day.
Michigan Tech students and numerous student organizations headed out into the community to make it a little bit better. On October 28, students gave back to the community in ways large and small, from raking leaves to passing out Halloween treats.
Students volunteered at Marsin Nature Retreat to build a fire pit. A few groups helped out the Houghton Beautification Committee by pulling weeds, planting bulbs, and doing general gardening. Lambda Chi Alpha chopped wood for Little Brothers Friends of the Elderly. Several organizations raked leaves and picked up fallen debris in several locations across the Keweenaw including the Forest Hill Cemetery, Chassel Cemetery, and at homes in Houghton and Hancock. ​
Started in 1992, Make a Difference Day, is one of the largest annual single days of service nationwide. Each year, volunteers and communities come together with the single purpose of improving the lives of others.
Michigan Tech students. Making a difference. One Husky at a time.
How did Michigan Tech make a difference in your life? Share your stories.
Sarah 
Tech Alum
Editor