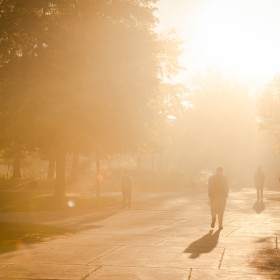 I can't say that Halloween is my favorite holiday—I could take it or leave it, leaning toward the latter—but even with the attempts at tricks or treats, it seemed to be a bit scary for some of our students last week.
With the final draft of an essay due yesterday, I cancelled my regular classes last week and had one-on-one conferences with each of them. And almost every single one came in concerned. Nervous. Sleep-deprived.
Oh, not because of the essay, they assured me. That would be fine. No, last week was a chemistry exam. And calc 2. And another class I've never heard of. A couple of students had to memorize something like 175 species of trees (based on their leaves, I think, and this is a good time of the year for working on that now that they're on the ground). There was a lot of talk of using the learning centers on campus.
This is foreign territory for me—I look at what a lot of first-year students here take and can safely say I would not have survived. I've never taken calc. Or pre-calc. In fact, my math class in college was essentially a training course in gambling. I swear the school was accredited.
What struck me during these conferences was the way they worked through these difficult exams. I'd ask if they were doing anything fun for the holiday (or just the weekend). Glazed and dazed looks would come back from infinity. "I haven't even thought about it."
Balancing complex equations and (insert something witty about calculus here—seriously, I don't even know enough to do that) is a lot scarier than any masks or costumes could possibly be.
As a memory for all of you, too, here's something that seems a bit scary to me today: it's going to be in the 60s. In November. I'll take it!
Elsewhere:
It's probably the best time of the year if you follow the Huskies: fall sports are getting late in the season while hockey is well underway and basketball is just around the corner. There's a whole bunch of sports stories down the page.
Also of note is that our very own Tanner Kero debuted for the Blackhawks last week. He's got three games under his belt so far and I think acquitted himself very well indeed. One thing for my Blackhawks-loving family to talk about that doesn't involve them objecting to me being a Canucks fan. Like they think our teams are rivals or something. Note to Chicago fans: you aren't Calgary. And be glad for that.
Dennis was always good in this spot in taking care of his fellow RTC students and alumni, and since I also come from the hallowed halls of Walker, I wanted to pass along a Superior Ideas project led by a graduate candidate and a faculty member:
StreetKnits is an international charity project where knitwear is donated to homeless shelters in the Midwest. Individuals in the US, Canada, Spain, and Germany, as well as technical communication classes at Schreiner University in Texas, knit and create manuals for future StreetKnitters. Silke Feltz (PhD Student in Rhetoric, Theory & Culture) and Clare Zuraw (ESL Instructor) would like to establish a Michigan Tech presence for StreetKnits by linking the charity to technical communication classes at Tech. By supporting this idea, Silke and Clare can purchase materials, teach knitting in classrooms and offer knitting workshops across campus. Please feel free to check out the

StreetKnits Facebook page

or email Silke (

shfeltz@mtu.edu

) if you have any questions.
And finally, I've had a fascinating interaction with a few alumni now in my tenure about grammar and style, which, as a word nerd, I love. It's always interesting to me to be reminded of the gulf that exists between K–12 rules for language (the ones, thanks to memorable teachers in our lives, we've never forgotten—I still have all of the helping and linking verbs in the English language memorized thanks to Mrs. Archer) and the ones in college. I usually have to spend the first few weeks of a composition class getting students to relax their writing a bit after the rules they've had drilled into them.
My approach is a bit simpler, though I know it can drive some grammarians crazy: if it fits the tone, the style, and the context of what you're writing, you can break just about any rule there is. All of them. Like that one right there on fragments. I learned to write narratives based on the way they sound, and that comes across a bit in my writing style (I think).
More than anything, though, I encourage my students to try to make their writing—and their speaking—not sound like writing or speaking, but rather sound like them. If that makes sense. It's why I ban the words "In conclusion" at the start of a conclusion. It sounds like writing. It doesn't sound natural.
To put that in perspective, though, I took a grammar class as a graduate student. Really. And you haven't lived until you've seen a room full of 40 English majors, 35 of them high school teachers, arguing about how to diagram a sentence for two hours at 10pm. Some passionate arguments there. I don't think we ever agreed.
Thanks for reading.