Kevin:
Dave McLellan was chief engineer for Corvette from 1975 to 1992. He was succeeded in that capacity by Dave Hill (1992-2006). McLellan was a Yooper (Munising)but moved to Detroit at a young age. Hill got his BSME from MTU (1965). As I recall, the C4 Corvette was developed during McLellan's reign, Hill directed the development of the C5 and C6. Some of the early C5 work may have been done during McLellan's time as chief engineer.
John N. Johnson MTU BS  Metallurgical Engineering 1962
Hi Kevin,
I am not that familiar with the C4 generation Corvette engineering team.
However I do know that David Hill (BSME '65) became chief engineer for
Corvette in 1992 and is widely regarded as the "father" of the
groundbreaking C5 generation Z06 Corvette which was capable of 190+ MPH
right off the showroom floor.  I have first-hand knowledge that the C5Z06
is one darn fine piece of engineering and it looks great in Michigan Tech
colors as well.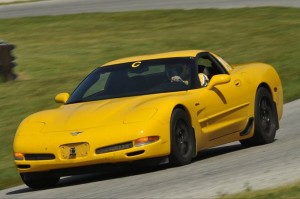 Attached are a couple photos from one of my trips back to Tech and another
on the 4-mile road course at Road America in Elkhart Lake, Wisconsin
enjoying the work of Dave and his Corvette design team where it really
shines – on the race track and at top speed!
If I see Keith on the road, I'll be sure to wave.
Ryan Johnson
BSME '98
I would think that all Alumni who follow cars know about Dave Hill.  He was the Vehicle Chief for Corvette for many years. I worked with Dave on the C6 Corvette, but the C4 and C5 were before my time at GM.
I sent a note over to a few other Huskies that worked on the C6 with me to see if they recall any other Husky alumni that may have worked on the C4 or C5.
Michael F. Erickson '96
Hi Kevin.
Re the Kerridge Theater topic and photo that you posted several issues ago; my husband (Karl '59) said that the car in the photo was a '57 Plymouth.
Gail Richter '61