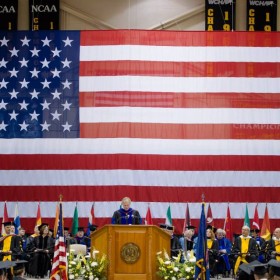 It was a really easy drive this morning.
Driving in the Keweenaw is never really hard, unless you're dodging potholes on Cliff Drive in May. That looks like a slalom ski event. But today is the first day when it's really easy.
I live on the west side of Hancock, turning onto lower Lincoln as I make my groggy way to the office—I'm not a morning person. I've sat at the intersection of Lincoln and Michigan for 20 minutes in the last year, traffic being much heavier now that White Street in Hancock is one-way up.
This morning, I just pulled right out. Most of the students are gone. Traffic is almost negligible.
It's also really odd here right now. It's 4pm on Monday, and the hallways are all dark. Many staff members go on summer hours starting today, working earlier and leaving earlier.
It seems to be a time of transition for everyone. U-Hauls are loading up, Goodwill is getting a ton of donations, and now we turn over from college town to tourist town.
Now we take in the long days, these hours of summer.
I enjoy working commencement, and it was a great ceremony this past weekend. I wrote a little piece that's down in the news section, so I won't repeat all of that here. It's turning the page for so many people, going out and starting careers.
Next week is the other end of that for me. My father is giving the commencement address at the Illinois College of Optometry, concluding a few decades of teaching and mentoring and guiding. The spring semester was the first time in 15 years I've had a term off, and it's because of my father's example and my mother's encouragement—she was an English teacher—that I worked my way into higher education. I'll head down that way, a nice moment to say thank you to both of them, with Mothers Day a few days before.
There's a lot I admire about my parents, but there's also a lot I admire in the other educators who have helped to shape my life. Names like Jumbeck and Scheman and Koenig in middle school and high school. Kocher and Holdstein and Brady and Johnson are just a few from my (admittedly long) college career. A word of advice or encouragement—or sometimes a kick in the pants—was very welcome.
I hope to maybe be remembered when I walk off stage for the last time, but it's not something for educators alone. I helped a small bit with commencement rehearsal Friday afternoon, and I got to walk down the center aisle as the students filed in. There were so many of them, quite a few who I've known from my time here. They spoke of their mentors and guides, in the classroom or the office, on co-op or internship. What was universal was the appreciation.
Appreciation to people like all of you, who are out there, setting the example, guiding and mentoring and educating all the way.
Yes, us educators are lucky—we get to very directly see the influence we have. I see the tributes to my father coming through this week, and yeah, I'm damn proud of him. And I can only hope to do a fraction as well.
But everyone deserves this, for the way we influence others. Our students—now alumni—received the first recognition, the one at the beginning of their careers. Each and every one of you reading this should take pride, wherever you are in life, for the contributions and influence and help you've provided every day since.
Yes, we honored our graduates on Saturday. But we also honored our faculty and staff and supervisors and colleagues and especially families who helped make it all happen. For everyone, wherever or whenever, way to go on the difference you've made. Thank you so much for who you are. The roads are a bit quiet here today. Quiet enough to let us think of how we got where we are, the names and faces and helping hands along the way.
And great job, Dad. I'm so proud. You're why I try to teach each lecture better than the last.