Here's another "Graduation Memory."
My graduation from MTU, in June 1971, was the last graduation ceremony held at Dee Stadium. Our guest speaker was longshoreman-turned-author and philosopher, and eventual 'Presidential Medal of Freedom' winner, Eric Hoffer. He gave a very inspiring address to us graduates and was awarded an honorary Doctorate. Attached are a couple of photos from that day.
John R. Baker '71, BSME
-Great memories, John! Thank you for sharing these photos from the Dee. -SW
–
I greatly miss the graduation ceremonies. Thanks for the photos.  I have two nephews and one nephew's girlfriend on the way next fall.
James A. Mitchell '65
-Great news, James, that we have new Huskies joining us in the fall! -SW
–
Husky Pride
MTU logos in the workplace!
Alicia Haydamack '11
-Alicia, keep displaying Michigan Tech proudly! And thank you for sharing. -SW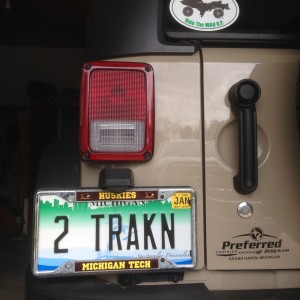 Tech Pride
Steve Erickson '72
-Great photo, Steve! Thank you for sharing your Michigan Tech pride! -SW
–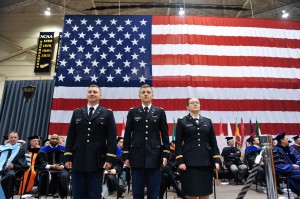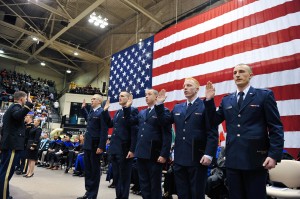 Who was commissioned in the Army and the Air Force?  A story and pictures of these recently commissioned 2nd Lieutenants should be included in the graduation information.
Baron D. Davis '84 BSEE
Commissioned in the United States Air Force
Currently Inactive Ready Reserves
Thank you for requesting this information, Baron. Here are the recently commissioned students from Army and Air Force ROTC at Michigan Technological University. -SW
Army 2nd Lieutenants
2LT Anthony Amato, Bachelor of Science, Computer Network and System Administration, branch Cyber Corps, First Duty Assignment Fort Gordon, GA
2LT Dean Johnson, Bachelor of Science, Mechanical Engineering, branch Aviation, Fist Duty Assignment 228th Aviation Regiment, Grand Ledge, MI
2LT Melissa Standing, Bachelor of Science, Chemical Engineering, branch Signal Corps, First Duty Assignment 11th Signal Brigade, Fort Hood, TX
Students commissioned from Finlandia University through the senior program at Michigan Technological University.
2LT Matthew McLaughlin, BA Biology, Distinguished Military Graduate, branch Medical Services
2LT Lee Shippey, BS Nursing, branch Army Nurse
Air Force commissionees: Jacob Ahles, Micah Ball, Horatio Babcock, Adam Cottrell, and Nicholas Grygleski
–
Assuming you've been to a hockey game, you've heard the Pep Band sing the Engineer's Song.  Sadly, they only seem to know one verse.  In the 1970′s there were many verses.  While some would be deemed politically incorrect today, they are a part of Tech's history and lore!
A couple of my fraternity brothers and I have resurrected all of the verses that we can remember.  Please see the attached.  Can these find their way into the archives?  And is there a way to get these to the Pep Band for their possible use in the future?
J.B. Hoyt, '74,  Ron Henning, Pat Hartman
J.B.-Thank you for sharing this historical gem with us! We've passed it along to the University archives and shared with the Pep Band. -SW
"The Engineer's Song"
Michigan Tech
(Refrain)
We are, we are, we are, we are the Engineers.
We can, we can, we can, we can drink all of 40 beers.
Drink up, drink up, drink up, drink up and come along with us,
For we don't give a damn for any man who don't give a damn for us.
(Verses)
My father was a miner on the Upper Malabute.
My mother was a hostess in a house of ill repute.
When at the tender age of three, I was kicked out on my ear,
There was nothing left to do but go to Tech, become a wreck, but a helluva engineer.
Colonel Perry and his gunships sailed out to Misery Bay.
They'd heard the Spanish rum fleet had headed out that way.
But the engineers had beaten them by a night and half a day;
They were drunk as hooligans and you could hear them say…
Godiva was a lady who through Coventry did ride,
Showing all the country folks her pink and pretty hide.
The most observant fellow was an engineer, of course.
He was the only one who noticed that Godiva rode a horse!
Godiva said, "I've come a long way; if any man's come this far
He'll take me off this goddam horse and lead me to a bar."
A blurry-eyed surveyor and a drunken engineer
Took Godiva off her horse and stood her to a beer!
An artisan and an engineer once found a gallon can.
Said the artisan to the engineer, "Outdrink me if you can."
The artisan took one drink and died, his face a motley green,
But the engineer kept on drinking, for it is was only gasoline.
A surveyor and his lady went strolling in the park
When he decided to take research after dark.
His scientific methods were a marvel to observe.
While his right hand read the instruments, his left hand traced the curves!
Some diseases cripple, some diseases kill.
Some diseases can be cured by taking one small pill.
Of all the world's diseases, the one I most fear,
Is to go to Tech, become a wreck, but a helluva engineer.
–