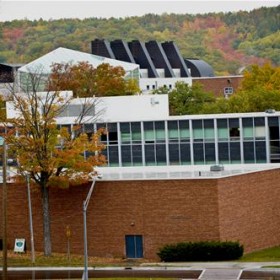 We all have our memories of Fisher Hall, which is celebrating its fiftieth anniversary this year. We'd love to hear your memories, and there are a couple of email links below to send them in.
My first memory is taking the ACT in Fisher 135 in my high school days. Brutal. Years later, I proctored the event and watched the packed room (every other seat) full of squirming high school juniors and seniors. Four hours in hell.
I've seen many great lectures in that room. I heard George McGovern crediting President Eisenhower as being a much better leader than he was given credit for. I recall Ralph Nader say we should listen to our grandparents more and experts less. I heard Kurt Vonnegut remind us to enjoy our time on Earth as much as possible. And Stephen Jay Gould gave a fascinating lecture on evolution and chance. I also heard a Russian journalist warn us about a post-Soviet Russia!
Of course, we all have classroom memories, and I survived a 3000-level Spanish grammar class. Do you know how many verb formations they have? I took my first quiz in nearly thirty years there. Wow. And, when I got to be on the other side of the classroom, I appreciated all the improvements they made, including audio/visual/Internet connections and displays, color schemes that weren't bright yellow or worse, and COMFORTABLE CHAIRS!
I've also interviewed many patient math and physics profs who looked beyond my bewilderment to explain a concept, again, for the scientifically challenged. God bless them all.
I've heard of profs pulling off some pretty good stunts in the building, especially in the lecture halls. We'd love to hear your memories.
Email Marcia Goodrich, editor of the Michigan Tech Magazine, or me
Dennis '92 '09
Snowfall Totals: Last One!
Slushy event last Friday covered the cars up north.
Keweenaw County: 340.5
Keweenaw Research Center: 208.75 inches.
Someone from Twin Lakes said their 4-foot fence went missing all winter.