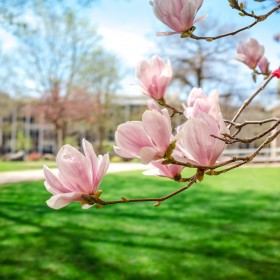 Welcome! With this issue, we're welcoming more than 1,000 alumni to our ranks. To them I say congratulations. TechAlum is one of the ways we try to keep in touch with you, alongside our magazines, Facebook page, local alumni chapters, and probably a dozen or two more. Head on over to our alumni website for the full rundown.
My name is Kevin Hodur, and I received my PhD from Tech in 2012. But I never left town, and I've worked here as a writer and occasional instructor since. What we do here is try to keep everyone up to speed on what's happening here in Houghton. Events, places, people, memories, you name it, that's kind of what we do here. Have any questions or requests? Drop us a line here at techalum@mtu.edu and we'll do our best. I promise!
More than anything, this is your alumni publication. It will pop up at about 11am every other Tuesday. Assuming I got all of the settings in the email right. There are a lot of boxes to check. But don't be shy. After all, this is the same crew of people who also swayed to the Copper Country Anthem, who survived more inches of snow than should really happen, who got their hands dirty in the lab, and who otherwise called this place home—they're just like you.
Right. On with the show!
It's one of the things I look forward to most, the kids coming back to campus.
No, I don't mean our students. They aren't kids! I mean literally the school-aged youth who come to campus each summer as a part of Summer Youth Programs. Just about every week a new wave of them arrives, spending the week exploring an area that interests them. They also have popular culture references I don't get and play games on the sidewalk I don't understand. Was my time in grade school really that long ago?
These programs are exciting, and it's the kind of opportunity I wish I had had when I was younger. It was about two years ago that a former designer and I were figuring out how the SYP catalog and application should look and feel. We both agreed that there should be a certain confidence about it all. Like "Summer camp? Yeah, it's kind of like that."
Because what they're doing is so beyond what I remember doing at that age, what I remember being available. I wonder how many parents my age would also be rather floored by what SYP is doing. I mean, just look at some of these program offerings:
Video Game Programming
Be Your Own Boss
Bridges, Dams, and Skyscrapers
Mobile Robotics
Blacksmithing
Mountaineering
Aquatic Ecology
Rocketry and Space Science
There's a bunch more, too. Like, a whole lot.
This will run until the beginning of August. By then they'll know how to forge or program or paddle or control. And by then we'll be getting ready to welcome a new incoming class of undergraduates, eager to get going in their college careers. Their younger colleagues, back at their respective schools, buzzing about what they've done, won't be all that many years behind them.
One other pretty cool thing to share, courtesy of the good folks at SYP:
Thanks to an anonymous donor, two Waupaca High School students will experience an unforgettable summer educational opportunity at Michigan Technological University.
This scholarship was open to Waupaca High School students in grades 9-11 (as of fall 2014) and was selected on a competitive basis. Students were reviewed based on academics, answers to required questions and teacher recommendations. The selection committee also reviewed involvement in extracurricular activities, outside interests or responsibilities and application neatness and accuracy.  
"We were very excited when we received the call from Michigan Tech about an alumnus wanting to reward Waupaca students with pre-college summer opportunities focused on STEM," explains Jeff Dolski, Waupaca school counselor. "After seeing the list of high-flyers that applied, we knew the donor would have their work cut out for them in choosing the two finalists.  This is a great example of a community member that has gone out and created success, and is now giving back to the community where their education began.  We look forward to many years of supporting this awesome opportunity."
While a total of twelve very qualified candidates from Waupaca High School applied for this scholarship in the hopes of attending the summer camp in Upper Michigan, the scholarship program could only cover the costs for two students to attend.
The anonymous donor sponsoring this scholarship is a Waupaca High School alum who feels the camps offered at Michigan Tech are a great opportunity to educate and prepare students for a career they are passionate about.
Elsewhere:
I'd love your thoughts on this: should colleges and universities have the kind of obsession with Latin that they do? I ask that because I see the term alum becoming the norm, using the root of the word without a suffix. As a refresher, alumnus is male singular, alumna female singular, alumni male/collective plural, and alumnae female plural. I got to thinking of this during commencement when the term cum laude was employed rather than with honors. Granted, so many of the traditions—like robes and their ilk—date from the Renaissance, but have they served their purpose for us? Let me know what you think at, uh, techalum@mtu.edu.
It's snowing as I type this. It isn't sticking, but still…
And finally, check out the story below about the Mineral Museum's new collections. Make sure to stop by the next time you're in town!
Thanks for reading.