In the top photo of guys lined up in a single row outdoors – the 4th guy from the right is Robert Pote.
Alice J. Jones Biol '75
–
In looking at your pictures of ROTC personnel, the one with the single line of cadets, I can identify the guy 3rd from the left.  It's my Phi Kappa Theta Fraternity Brother, Douglas Einodshofer.  He was a Tech Freshman in 1973 and I met him as a Freshman in Wads in 1974.  We pledged Phi Kappa Theta '74-'75. Doug passed away in 1985 at the too young age of 30.  We all miss him dearly.
If I'm not mistaken, 8th from the left would be Roy Hoerauf.  He too was Phi Kappa Theta brother of mine.  I believe he was a Freshman in '72.  He did receive his Master's Degree in Business at Tech as well as his BS in an Engineering discipline.
Steve Kusnit BS-Biology '80
–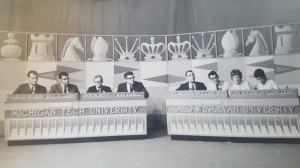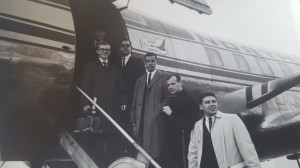 A couple pictures you might enjoy from when Tech was in the college bowl.
Myron Berry '82
–
Found It.  You asked for the best statue we could recall.  1970 VET's Club was Awesome!
Following the Moon landing; their astronaut riding a battle elephant with a teeter-totter launching the Saturn-V was very impressive.
Tim GeBott '75
–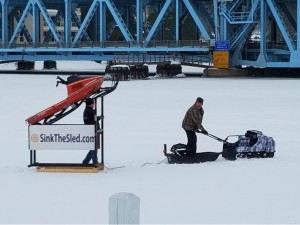 Hi! Houghton Rotary is again raising money to award local scholarships through the Sink the Sled contest. We appreciated all of the support from Michigan Tech alumni and friends last year so I wanted to share the information again.
A vintage snowmobile is out on the frozen Portage Canal just west of the lift bridge. Tickets are being sold for a chance to predict when the sled will fall through the ice.
Tickets can be purchased online at SinkTheSled.com. There is also webcam video and pictures of the sled.
Guesses are 1 for $3 each or 3 for $5. The winning ticket will receive 50 percent of the net sales up to $1,000. The remaining proceeds will support the Houghton Rotary's scholarship program.
Amanda Massaway