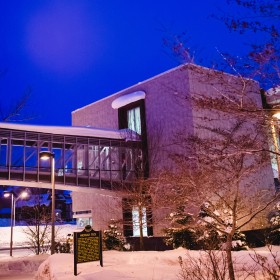 The snow is melting but there's still plenty here for this year's Clean Snowmobile Challenge March 5-10. Are you heading up?
New teaching standards call for weaving science, technology, engineering and math (STEM) into classrooms better. Read more.
Michigan Tech alumni reconvene at the 2018 Winter Olympic Games. Read their story.
More than 200 companies and 1,000 company representatives came to Michigan Tech in late February to meet with students during Career Fair. Were you here to help recruit?
There is a lot happening at Michigan Tech. Let us know how you are sharing Michigan Tech with others.
The weather has felt spring-like in the Keweenaw. But I know there's still a snowstorm or two or three left to go through. Memories of March snowstorms? When did you know spring had arrived in the Keweenaw? Tips to surviving six more weeks of winter?
Sarah