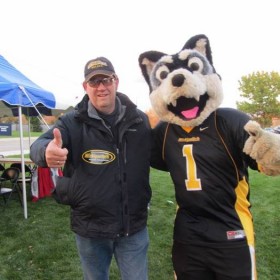 Meet the West Michigan Alumni Chapter!
As one of our oldest and most active chapters, these are some busy Huskies! In addition to Husky Happy Hours, new student send-offs, and Hockey pre-game socials this chapter has some unique annual events. Such as a Fish Fry at Schmohz Brewing, where Captain Ken Glupker '73 and his wife Judy of Jireh Charters prepare ~70lbs of their catch for all to enjoy.
They also host a Pickled Egg Tasting where alumni and friends bring in batches of their homemade pickled eggs to share. This year there were 10 jugs, 40 tasters and Chas Thompson '91 Beer Engineer of Schmohz Brewing provided the prizes including a one of a kind, best egg trophy jar.
You can count on this group to put on a fun pasty tailgate any time our football Huskies are playing at GVSU.
At events throughout the year, they auction off Tech gear as well as sell tickets for the Charter Fishing Raffle which is donated by Andersen Charters & Jireh Charters. All of the proceeds from the raffle go to the West Michigan Endowed Scholarship Fund which is awarded to a student from a West Michigan family.
A highlight of their year is the annual Spring Dinner. This year it is planned for May 19, with guest speaker President Glenn D. Mroz.
On the last Thursday of each month, they get together at Schmohz Brewing to plan events and socialize. If you are in the area or just passing through, you are always welcome to stop by this monthly gathering.
A big shout out to all of our West Michigan Board! Pam Baileys '81, Brian Bueche '81, Dave Cox '76, Jim Crouch '90, Mike DeJonge '65, Chuck Deimel '88, James Edelyn '94, Kevin Grzelak '89, John Gutierrez '94, Shawn Rathbun '82, Dawn Stanek '89, and Mark Twilley '11. They are the driving force behind the West Michigan programming!
To keep up with the West Michigan Chapter activities, check them out on Facebook. To see if there is a chapter in your area check out our Chapter Page.
-by Kay Larson '14
Assistant Director, External Relations, Alumni Relations