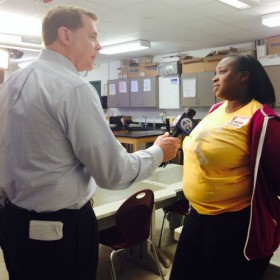 Another new tradition at Tech is our students using spring break for something other than beaches and sunburns. For a few years now, they've ventured to Silicon Valley to explore the leading-edge companies that create so much of the cool stuff we use (or want to use) in our lives.
They also go to Detroit to inspire middle and high school students to pursue careers in the STEM fields and consider Michigan Tech when they start looking at universities. Both excursions are great, whether networking with corporations and alumni or sparking an interest that could lead to great things.
The Silicon Valley trip was led by Adam Johnson, director of industry program development, and Andre Laplume, assistant professor of management in the School of Business and Economics. The trip was the brainchild of the late business prof Bob Mark, and Brocade Communications with Dave House '65 sponsored the trip.
The students checked out some of the local attractions like Chinatown, Fisherman's Wharf, and Ghirdelli Square on their first day, without a snowflake in sight.
Kirsten Dulbandzhyan, third-year marketing and management major, enjoyed the tour of  the Porter Family Vineyard. "The most fascinating part of the vineyard was the cave that the Porter Family owns," she said. "They had build it to produce their wine in, the humidity in the cave was better for the fermentation and there wasn't enough space in the original office."
Cisco was a big hit with Nick Schweikart, first year mechanical engineer. "[The guide] showed us around the office space and it was aboslutely mind-blowing," he said. "This place had the most fun-looking layout imaginable. Were talking toys on desks, free catered lunch/snacks, and Nerf gun office wars! Everyone we talked to was smiling and so genuinely happy with their job that the feeling was contagious. These people loved were they worked, and actual thought of it as a second home."
"The whole trip was amazing, but if I had to pick my favorite part, it would be Alcatraz or the alumni event," said Kevin Coleman, fifth year computer engineering major. "The tour of Alcatraz was just incredible and provided us with some breathtaking views of the city. On the other hand, the alumni event gave us a unique chance to meet with a lot of great Tech alumni doing some really interesting work in Silicon Valley."
"These students get a most unique crash course in the Bay Area—from startups like Cisco's recently acquired Meraki, to glamorous Tesla Motors," said Johnson. "The eight immersive tours were made possible not only by Tech's corporate partners, but a passionate group of alumni like Rob Fjerstad '86 (Autodesk), Debbie Campbell '76 (National Park Service), Danielle VanDyke '06 (Google), Dianne Marsh '86 (Netflix), and Glenn Wheelock '85 (Tesla), who take time out of their day to roll out the red carpet. Trip sponsor Brocade also hosted a four-hour executive panel discussion, lab tour, and recruiting meet and greet session to wrap up the week."
Laplume likes the edginess.
"I like going to the valley with the students because we get to see disruptive innovation theory in action. Some of the companies we visit are new entrants breaking into the industry, while others are large incumbents defending their established positions. Getting a window into the evolution of technological innovation and associated companies is likely a great asset for students as they navigate the job market and the entrepreneurial landscapes of the future."
The blog is here: http://blogs.mtu.edu/companies-industry/2014/03/silicon-valley-tour-day-1/
In Detroit, members of our National Society of Black Engineers student chapter had a busy couple of days. NSBE's mission is "to increase the number of culturally responsible black engineers who excel academically, succeed professionally, and positively impact the community."
Joan Chadde, education program coordinator for the Western UP Center for Science, Math, Environmental Education, set up the trip. John Deere supports it, too.
Twelve classes and night activities in four different schools meant some 900 schoolchildren and others learned about science and engineering from the Tech students. The busy students did both the in-class sessions and Family Engineering nights.
Taylor Driscoll, mechanical engineering major, summed it up:
"We use our spring break as an opportunity to give back to the city of Detroit by helping students understand the importance of engineering. We know that by being there, younger students can relate to us. We want to instill confidence in them that they can do whatever they put their minds to."
And a mom seemed to think it was very well done.
"We had a fantastic time being civil engineers, designing and building a bridge with marshmallows and toothpicks! Thanks for thinking of us and bringing Michigan Tech to Bates Academy! They were wonderful! Hopefully, Bates can make it an annual event! Please make sure you pass on the praises to the Michigan Tech folks!" Andrea Henson, Bates Academy parent.
After attending the event, Henson's first-grade daughter exclaimed, "This was fun!"
Wait till you build a snow statue.
Dennis '92 '09
Snowfall Totals
It's the snow AND the cold . . .
Keweenaw County numbers.
Keweenaw Research Center  totals.