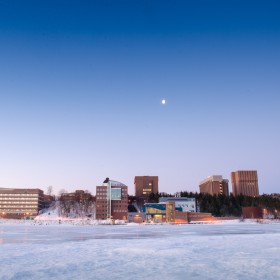 When I was finishing up my time as an undergrad, bleary-eyed some hours before twilight one late-semester morning, I remember a documentary about Australia. It was some National Geographic-esque thing, but without the polish.
The film was on Kakadu National Park, a protected area in the Northern Territory of Australia. They did a unique job with structure, with the pattern revolving around a unique feature of Kakadu: it has six seasons.
For all of us, our four seasons are drummed into our brains along with our names and addresses and phone numbers as we're growing up. Decorated bulletin boards in primary school hallways reinforce it.
And they're all wrong. For the Keweenaw, at least.
We have five seasons in the Keweenaw, and we're now in the midst of the least-loved one. Summers are this glorious time when days are impossibly long, the blue of the sky and of the water broken by that ribbon of rock and tree. Fall is lovely, amazing skies and stunning colors. Winter is both ferocious and gentle, as anyone who has driven through a blizzard and skied through empty trails knows. Spring brings us new life, new flowers, and new host of possibilities.
Today isn't any of those. Today is a prime day in my least-favorite season. Let's call it Melt.
Melt is that season from mid-March through early-May, snow looking like piles of sickly coal, sand kicking up everywhere. The morning and evenings are usually cold, the water from the day's melt icing up again. More than anything, we can see what the warmer days are going to be. But they aren't coming quite yet. Now we have to wait. It can be interminable.
My disc golf bag is ready for the season—no bright green or yellow discs to start, since they get lost in all of the blooming. My scooter's battery is charged. My skis have been banished to the basement. But I have to wait. Because it's Melt.
There's plenty of work while we wait. I have a fair number of projects going at any given time, so I'm around campus quite a bit this point of the term. I get to see a lot of those hidden little nooks and study spots, and I have some favorite places to go to wait it out.
Probably my favorite is the stairway in Dow, the one at the north end of the building. The windows in that stairwell are massive, and it almost feels like you're hovering over the Keweenaw Waterway. It seems wider at that point, whether it's lost in a kind of fog when frozen over, or little wavelets retreating all the way to Dollar Bay in summer. I never tire of that view.
I really like the ground floor of Wadsworth Hall. Back when I was finishing grad school, the Campus Cafe was open during the afternoons—fairly empty, too, so I understand why they went to evening hours. But I like the spots in the hallway heading to WMTU even more. There's a pool table with this mellow lighting setup, a few couches, too. There are others, too. Places to pause, and they're all massively comfortable. It might be the closest feeling I've gotten here to the hallway by the Brown Line at Chicago's Merchandise Mart.
Rekhi Hall has some amazing lounges, too, but you'd expect that from such an architecturally cool structure. The suspended track in the ROTC Building gym is a throwback. And waiting for meetings with staff in the School of Business and Economics means I get to check out the highly detailed ceilings. The MUB's stairway to nowhere is a classic, a remnant from a prior renovation. And maybe the best view on campus is from the commons facing the water in the second floor of the GLRC.
And that's just indoors. For outside, the Walker Lawn is my go-to. Rockhenge in front of Fisher is quite nice. The practice fields by the SDC are a frequent destination.
We have a lot of cool places to wait, plenty to choose from while Melt takes its time going away. Places to sit and wait and work and know that Melt never lasts forever. Even if you just stepped in an icy puddle.
Where did you while away some free time here in Houghton? Where do you go now? Let us know at the usual address.
In Other News
Check out the sports story below on Tanner Kero. The Hancock native is a finalist for the Hobey Baker Award, a massive honor in collegiate hockey. Fan voting is now open, and Tanner is running second. To a player from the University of Michigan. You know what to do.
A hearty congratulations goes out to Margot Hutchins of Sandia National Laboratories. Margot earned her doctorate from Tech and was named one of the 2015 SME Outstanding Young Manufacturing Engineers. Great work, Margot!
And finally, thank you for the massive response to the question of when TOOTs was/was not in use. If we printed them all, they would be the entire newsletter this time around, so if we didn't include yours, please know it was definitely appreciated. Each issue is an education for me.
There is, of course, much more below. Always feel free to let me know what I can do better. And thanks for reading.