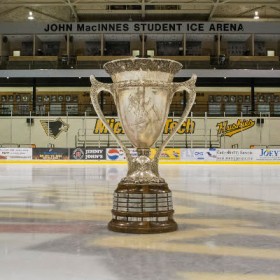 Our hockey team accomplished something that hasn't been done since 1976. The MacNaughton Cup makes its way back home in the Copper Country. The Detroit Free Press tells us the 40-pound trophy was purchased by the president of Calumet and Hecla Mining Company James MacNaughton back in 1913. He paid $ 2,000 for the silver cup—and now it's back where it belongs.
This is a special accomplishment every Husky can celebrate, and it simply wouldn't be possible without your support. Thank you. You had faith in us and knew we would come back. With your continued investment, even greater opportunities for our students are ahead.
Join fellow Michigan Tech fans to cheer on the hockey Huskies as they take on Ferris State in the first round of the 2016 WCHA Final Five.
One hour prior to Michigan Tech's game all Michigan Tech alumni, family, friends and fans are invited to meet up for a pre-game social at the BOB to celebrate the Huskies' great season and pick up some Tech flair for the game.
All-tournament ticket packages are priced at $ 69. Seats in the designated Michigan Tech can be purchased through the SDC Ticket Office at BuyHuskiesTickets.com or over the phone at 906.487.2073.
For more information visit: https://www.facebook.com/events/1036548543058109/